Homecoming Court Candidate: Katelyn Au
Hi, my name is Katelyn Au, and I am excited but also apprehensive to be elected to homecoming court! My favorite subject is band because all my friends are there and that is where I feel I make the most impact, but I also enjoy history. I am most passionate about using music to connect with others in Irvington!
I think being elected to homecoming means that you show Irvington spirit and are a representative of the Irvington community. I am involved in marching band, Resonance, and Youth Alive.
After I graduate from Irvington, I want to work with kids because I really love kids and I want to work to help them. I am most inspired by my parents because they work very hard and help me a lot.
The most distinct memories I have so far during high school have been band reviews due to the hype from awards and the experience, and also crossing the street everyday when going home and almost getting run over by cars.
I like to read and take naps in my free time.
About the Contributor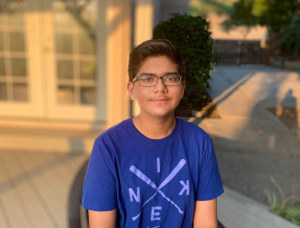 Suyash Lakhmani, News Editor
Suyash (11) is in his second year with The Voice and is serving as a news editor. He joined The Voice to help serve Irvington, and to give him an excuse to write. When he isn't procrastinating on everything or reading the APUSH book cover to cover, he loves to play video games and go out with friends.