Girls Golf Soars through Outstanding Season
Even after an unprecedented year, Irvington girls golf soared to victory throughout a marvelous season. The team cruised through competition, finishing with an outstanding record of 8-2, from September to November.
Both in the record and otherwise, this season was an utmost success on all sides of the green. Even after a year of online learning, the girls' golf team bounced back strong, winning games against tough competitors and finishing as league champions. As Irvington coach Larry Harrington stated, "5 of the 6 members will return next year, and 2 members were selected to the all-league. Apart from this, member Adora Liu was one of the most successful players in NorCal, and was also accepted to UC Berkeley for golf."
Adora Liu, one of the most dedicated players on the team, finished 3rd at the NCS final tournament and qualified to play at the NorCal Tournament on November 8th. She shot a round of 71 to qualify for the honor.
The team is already looking forward to next season, with member Grace Phang(10), saying, "I didn't think we'd do as well as we did this year. Next year I'm looking forward to improving, some more competition, and meeting and welcoming new players onto the team a lot."
As the season progressed the team faced a few obstacles, including a game against Mission and Moreau, where they tied for second with Moreau. However, they never let these instances damper their overall spirit and morale, and gained determination to finish with the outstanding record they eventually achieved.
A big factor of the team's continued success was their dedication and commitment to practice and practices. Many players practiced outside of designated team practices to improve their game as well. As Coach Harrington put it, "This team met and exceeded all expectations through hard work, by getting better and committing to practice."
New team member Alice Wu(10) joined in the middle of the season, but felt welcomed, "learning more about the game, the rules, and golf in general." In terms of how her season could have gone better, she also stated: "I need to practice more to improve and be ready for next season."
Throughout the season, the girls' golf team persevered and excelled against challenges to achieve an esteemed record of 8-2, and finish as league champs. Through outstanding players and great guidance by Coach Harrington, they were able to complete a great 2021-2022 season. Next season, the team hopes to gain and welcome new members to make it even stronger than it already is, to finish as league champs once again.
About the Contributor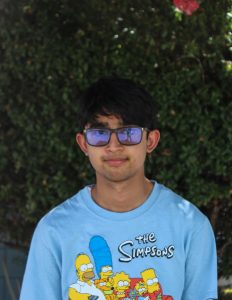 Ojas Vatsyayan, Sports Editor
Ojas Vatsyayan(11) is a second-year staff member of the Voice, this time as Sports Editor. He loves reading, listening to music, and playing tennis. If he's not doing those things, you'll probably find him outside doing something or the other. He wants to learn how to drive, but his mom won't let him. Oh, well.