STEM Week Builds to a Successful Set of Events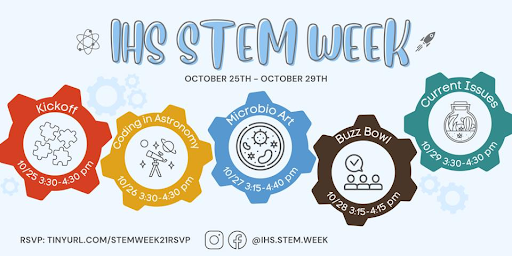 STEM Week, an annual collaboration of STEM focused-clubs that aims to provide diverse, logic-based experiences to students, was held from Oct. 25 to 29. Every day of the week featured a different event, usually organized by multiple clubs working in tandem. The initiative was organized by Girls in STEM for the second year in a row Though last year's events were entirely online, this year featured some in-person activities. Events included an online puzzle game, a microbe-based art workshop, a rapid-fire buzzer competition, and an environmental science workshop, which drew substantial numbers of participants as the week progressed.
To plan for the event this year, IHS Girls in STEM reached out to other STEM clubs—those who were interested then collaborated to create their own STEM-related events. The clubs were also responsible for planning the logistics behind their own events.
The IHS Girls in STEM club kicked off the week online, with puzzles and games for attendees to solve. The club asked participants questions that ranged from topics on plant biology to space science through a google form. Attendees collaborated with one another via chat and used the internet to solve these difficult questions. However, due to difficulties with publicity and complications with ASG, the collaborative event reached few participants and the location of the event was changed last-minute from Norse Hall to Zoom.
The lack of publicity led to low participation rates early in the week. On Tuesday, IHS Girls who Code and IHS AST/RO had to cancel their event on coding in the field of astronomy. The clubs planned to teach attendees about the fields of computer science and astronomy through presenting astronomy-related computer data and discussing how a computer scientist led her team to help land Apollo 11. However, the clubs ended up having to cancel the event due to the low number of participants.
"We printed flyers for each event and tried to reach out to as many people as we could through social media to raise awareness of IHS STEM week. However, I think publicizing early and holding events around advisory and flex could have helped to increase turnout" said Sumukhi Gupta (12), publicity commissioner for IHS Girls in STEM.
On Wednesday afternoon, there were a significant number of participants at the microbial art workshop organized by IHS Synapsis, IHS Paws, and IHS XOOM, as around 25 students attended the event. The meeting started with a quick lecture given by Synapsis officers on bacteria and the infections they cause, including the different types of bacteria at school and fun facts, making the presentation engaging. After the lecture, participants received materials such as Petri dishes, animal-based templates (supplied by XOOM), hand sanitizer, and cotton swabs, to create their own microbial art pieces.
"It's really cool that this event [bridged] art and science together" commented Serena An (9). "I like both subjects and so I really enjoyed learning about bacteria and animals while creating art."
To make the art pieces more personalized, participants swabbed for their own bacteria in various parts of the school, including the bathrooms, lockers, tables, etc. IHS Paws also entertained attendees through a quick quiz on animals. Though the event was engaging and unique, there was some room for improvement.
"The only drawback is that it takes a couple of days for the bacteria to grow. Other than that, it was really well-organized and I learned a lot" said participant Sophia Zhu (11).
Thursday afternoon saw Math Club, Computer Science Club, and Science Bowl congregate for Buzz Bowl – a science bowl-style buzzer competition with questions focusing on math and computer science. Buzzers were arranged on a long table, with the moderator at the center. The game featured two rounds of twenty five one-point questions each, with no elimination. Most questions were correctly answered within seconds; the math questions were especially contested, with almost all questions featuring multi-way buzzer races. In the excitement to buzz, many questions were answered before the moderator even finished reading, even though there was a point penalty for incorrect interruptions. When the question set was finally exhausted, officers handed out chocolates to attendees as a fitting conclusion to the evening.
To end off this week of STEM-related events, IHS Science and Eco, IHS Girls in STEM, and IHS Research taught students about environmental science-related issues through a lecture and a hands-on activity, in which students created their own take-home terrariums. Each part of the terrarium, such as the sand, rocks, soil, succulents, and water, represented different parts of an ecosystem — Officers from each club gave lectures on environmental issues, such as fracking, soil erosion, and water pollution. At the end of the workshop, the officers built one large terrarium with the remaining materials and answered questions on environmental science issues. Similar to the microbial art and buzz bowl event, the event had a high number of attendees.
"I really liked the concept of making a terrarium and I think it's a really unique idea. The presentation was really well done and I learned a lot about the importance of taking care of the ecosystem," said participant Tiffany Pan (10). The information could have been better presented, however. "While we were getting materials, the officers were teaching us about current environmental issues and that made it hard to focus and comprehend the information."
Despite the low turnout rates in the beginning, IHS STEM week proved to be a success due to the high number of participants towards the end of the week and overall positive feedback from participants.
"All the clubs on board were amazing and I think STEM week went well this year. Some improvements for the future would definitely be in publicity and communication, said STEM week organizer and Girls in STEM Co-President Lohitha Vadlamudi (12). "Other than that, STEM week was amazing and I would love for someone [next year] to continue on the STEM week legacy!"
About the Contributors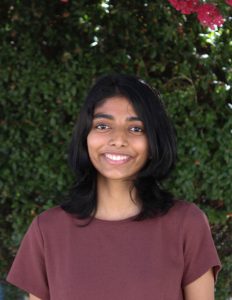 Ananya Anand, Humans of Irvington High Editor
Ananya (12) is excited to be a Humans editor at the Irvington Voice this year! She joined the Voice to highlight Irvington's beautiful, eccentric, and diverse community. In her free time, Ananya enjoys binging ATLA, writing poetry, and hanging out with her friends. Her IG is @ananya_anand05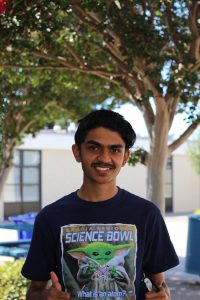 Sumukh Murthy, Web Editor
Sumukh Murthy (12) is currently the Web editor for the Irvington Voice. You will often find him reading, coding, biking, and playing video games, and occasionally remembering to do his work in between. He is committed to providing news stories with minimal bias, like his role models at CNN and Fox News. This is his first and last year at the Voice.