Cross Country Finishes Strong With the Squirrel Song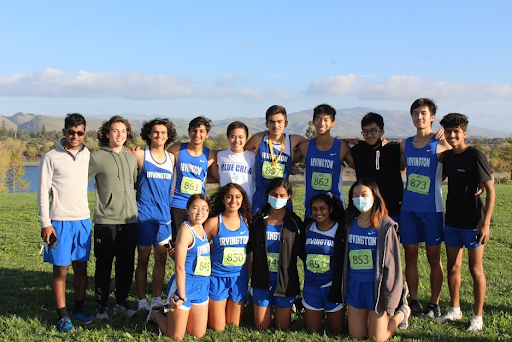 Irvington's cross country team finished their season strong with their Nov. 4 MVALs races at Quarry Lake. Although they started off a little slower due to COVID-19 and other factors, the team's determination and hard work brought them to where they are today.
With the introduction of center meets this year, teams were ranked out of the number of schools attending each meet, usually between 5 to 8. Though Irvington's teams hovered around the last few ranks at the start of the season, they rose higher toward the end. Each of the boys and girls teams performed well this season.
Their road to success was not without challenges. The team had various concerns to address, such as a small team size, running with masks, and less training than usual. There were roughly 35 runners on the team, about half the usual size. Additionally, Coach Dave began his summer training program 2 months later than he would in a typical year due to COVID-19 concerns. However, he noted that their perseverance offset these challenges, resulting in a successful season.
"They worked extremely hard to get to where they are today," said Coach Dave. "They ran some pretty impressive times, especially compared to where they started at the beginning of the season. I'm very impressed with the work ethic that everybody put forward.
Prachi Rajeev (12), one of the girls varsity captains, seconded this. "There are a lot of people that I'm proud of for reaching the times that they reached and their positions," said Rajeev. "They put in so much hard work, and I'm proud of the entire team."
Runners like boys junior varsity member Peter Rosario (11) were also more motivated to stay dedicated to the team's practices, giving them the opportunity to meet their own personal goals.
"One of my goals was to run a sub-12 2-mile time, which I definitely accomplished," said Rosario. "At first, running just 20 minutes on campus was extremely difficult, but now runs are no longer as challenging and I improved my personal record by over a minute during this season. One big factor as to why I was able to accomplish these goals was because I always showed up to practice. Everyday I would show up to practice and put in the effort and I also frequently did the optional conditioning on the weekend. I've never missed a single day of practice and only missed a couple of optional weekend runs."
Their dedication and practice certainly showed at the Nov. 4 MVALs race. As one of the highlights of the season, it demonstrated the team's tenacity. 
Samuel Forbes Jr. (12) ran a time of 15:25, placing 5th overall for the 3 miles boys varsity race. According to Coach Dave, that is "the fastest time that an Irvington boy has run in almost eight years." Antara Raja (9) placed 10th for girls varsity, and Varsha Aravindhan (9) placed 2nd for girls junior varsity. For freshmen, this is an especially remarkable result, potentially setting the foundation for next year's season.
Team spirit was also high. After the races, runners from all schools gathered in a circle around Prachi Roy (12) for the squirrel song, a bonding activity held after meets. Each year, a new person is selected to lead the squirrel song, and Roy is the first girl to hold the position. She explained the story:
"This boy on our cross country team went out on a run and he saw a stuffed squirrel on the ground. He decided to put it in his shorts and run back with the squirrel in his pants, and he started singing, 'I've got a squirrel. It's in my pants.'
It quickly turned into a song because they would repeat it on the way back. It started out as just a tradition for Irvington where they'd sing this song at the end of every meet, but it quickly grew. […] Eventually we started doing it with all the schools, the chant at the end of every meet, regardless of how the race was run."
It is a good way for the entire league to bond, even with the strong competitors that Irvington faces. Coach Dave noted the competitive relationship between Mission San Jose High School and Irvington, owing to the excellent running ability of their team members.
However, Rosario also noted a decline in spirit and team building from the past seasons due to smaller-than-usual team sizes this year.
"Because of COVID, there weren't a lot of people in cross country, and I also feel like it has negatively affected the team spirit," Rosario mentioned. "I hope that next year, the team spirit improves and hopefully more people will feel inclined to join so that we will be able to have another fun season."
While he is still determining changes for next year's season, Coach Dave has cited potential concerns about next year's team. The current boys varsity is composed entirely of seniors, leaving no returning members next year.
"This is the first year that I've had in 13 years where I won't have a holdover on the varsity boys team. All of my varsity boys are seniors," Coach Dave noted. "I'm hoping that we can replenish our ranks."
On the other hand, the girls varsity team has a large supply of continuing players for the upcoming season, including current captain Arsheen Pancar (11).
Rajeev, who is in her last year on the team, is unsure if she will continue cross country as a division sport due to the heavy workload that comes with her potential major, nursing, but she would love to take the club route.
"I'm definitely going to miss all the people and my coach, because he has made such a great impact and made me love running so much more than I did when I first started," Rajeev said. "And, of course, my teammates who are also some of my best friends."
She is optimistic about next year's team. "I can't wait to see them grow because there's so many new people that I see a lot of potential in. I can't wait to see them excel and win all the meets."
To conclude their eventful season, varsity will be running at NCS at Hayward on Saturday, Nov. 20.
About the Contributors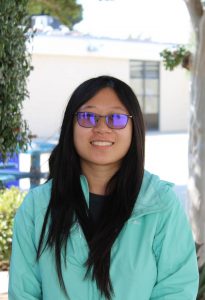 Nichelle Wong, Staff Writer
Nichelle Wong (12) is a staff writer for the Voice. This is her first year here, and she looks forward to expanding her repertoire outside of creative writing to include journalism. In her free time, she enjoys folding origami and planning imaginary conversations.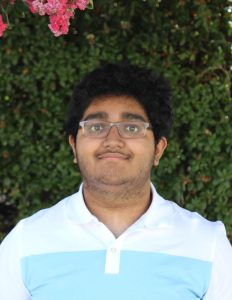 Aditya Bashyam, Entertainment Editor
Aditya Bashyam (12) is excited for his third year at the IHS Voice and his first year as Entertainment Editor. In his free time (whatever that is), he enjoys browsing on Wikipedia in an endless cycle, practicing Indian classical music, and planning on watching T.V. shows. Like many things in his life, he'll get to it later.