Spider Man: No Way Home – Nostalgic Yet Underwhelming
Spider-Man: No Way Home, the highly anticipated third installment of the MCU's Spider-Man trilogy was released in theaters on December 17th 2021. In the trilogy so far, which stars Tom Holland in the titular role, Spider-Man: Homecoming had received widespread acclaim and the second film, Far From Home had also received a fairly positive response. Most of the previous films' cast reprise their roles in No Way Home (Tom Holland, Zendaya, Jacob Batalon, Marisa Tomei). Additionally, previous actors from the Spider-Man franchise join the cast, including William Dafoe (Green Goblin), Alfred Molina (Doctor Octopus) and others that I will avoid spoiling for first-time viewers.
As the end of Spider-Man: Far From Home depicts, Peter Parker (Holland) is publicly revealed to be Spider-Man and in No Way Home, has to deal with the ensuing public scandal and investigations. He struggles to cope with it all, and decides to ask for help from Doctor Strange (Benedict Cumberbatch) and his magic. What ensues is a disastrous attempt at a spell that accidentally summons people from the multiverse and puts Spider-Man in an even more perilous situation. As the official movie trailer revealed, those summoned from the multiverse include Green Goblin (Dafoe), Doctor Octopus (Molina) and other iconic villains of Spider-Man.
Although Spider-Man: No Way Home has received positive reviews and ratings all around, from critics to Marvel superfans, I was not very impressed with the film. Throughout its two-hour-and twenty-eight minute runtime, there were many scenes where I felt indifferent and confused about what was happening on-screen even though I had watched the first two films. Despite the heartfelt moments and engaging action sequences that punctuated them, these scenes were full of dull, confusing exposition and felt lackluster to say the least.
What stood out the most was the messy script. The dialogue was convoluted, inconsistent in its tone and even weirdly amateurish at times. The entire first act was filled with endless exposition and mundane plot building without any style or narrative weight. In fact, before the big reveal of the movie during the second act, I was dreading even continuing the movie because of how egregiously written the first act was. The script definitely began flowing more smoothly halfway into the movie, as the stakes were raised and the film slowed down for its dramatic and heavy moments. Nevertheless, the emotionally heavy or tense moments were interrupted so quickly, by cheap jokes or rushed plot points, that I couldn't catch a breath and feel the weight of the story.
Alas, a messy screenplay also meant that much of the cast in No Way Home, including both rising stars and veteran actors, were not given the full opportunity to shine and display their acting talent. Most prominently, William Dafoe who reprises his iconic role of Norman Osborn/Green Goblin, shows the potential for a truly menacing villain, but Dafoe has to compete for screen time with the various other Spider-Man villains in this movie, diluting his on-screen presence.
What compensated for the lackluster screenplay was the big reveal of the film and the witty self-aware humor that ran throughout. Spoilers will be avoided in this review, but this movie definitely over-delivered on the big surprise that everyone was hearing rumors about. It was the turning point of this movie. Despite not being a Marvel comic book geek, I still somehow felt like a kid and was filled with nostalgia and wonder, so anyone who considers themselves Spider-Man superfans are in for an absolute treat. Marvel does not hold back in its fan service, and has countless references to iconic lines of dialogue that almost break the fourth wall. And unlike the previous sequel Far From Home, this film genuinely takes creative risks with its humor which ultimately paid off and made this movie that much more memorable. The movie always acknowledges the absurd scenarios that happen because of a glitch in the Multiverse, and much of the comedy comes from this self-aware tone.
Was I happy to watch an action-packed, superhero joyride after over a year and a half of not going to the movie theaters? Yes, I was. But was Spider-Man: No Way Home the flawless ending to a trilogy that was highly anticipated and hyped up by Marvel and its fans for months? Not exactly. Ultimately, I try my best to bask in the warmth of nostalgia and adventure rather than noticing the unrefined script, so I can enjoy Tom Holland shoot webs and kick ass rather than point out flaws in every other line of dialogue.
Rating: 2.5/5
About the Contributor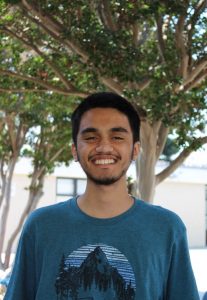 Jay Phatak, Broadcast Editor
Jay Phatak (12) is Broadcast Manager for The Voice, running the podcast in his second year working for the newspaper. Since he already has too much writing to do as a senior, he would like to edit podcast episodes rather than articles. When he has free time, he likes to beat people at chess, or take photos of the cute hummingbirds that come to his patio.