Humans of Irvington High: Brandon Cheung and Aviation
I'm Brandon Cheung, I am a Young Eagles pilot at San Carlos and Palo Alto and I have about 200 hours.
My goal is to go to an airline like United Delta or American Airlines and I plan on getting there by working at regional airlines like Skywest, Frontier, Southwest, or Alaska. I'm considering flying for CalFire in the future to help fight wildfires.
I would say I have liked flying since I was born. My parents and I would go on vacations or would be driving somewhere, even if we were just driving past San Francisco, I would ask to watch the planes as we head up to somewhere so that way, I can see the planes themselves. Then, during road trips, I would insist on finding museums or events at airports that are open to the public and my parents would stop there and we would take a look. That's basically how my passion for flying started.
After I took an introductory flight lesson, I couldn't stop talking about it to my parents. That's how I got started with figuring out what I needed to do, how to do it, and then giving a proposal to my parents to convince them. Then, they shipped me off to an introductory flight academy at a place called St. Charles Flight Center.
Other than that, starting wasn't that hard; essentially, I just had to go to flight school, reach out to people, and talk to them about it to learn more. However, the only way to actually get started is just to actually hop on the plane and learn how to fly. Anyone between the ages of 7 to 17 can schedule their first intro flight if they're interested.
Also, just hanging out at the airport is a lot of fun. Whenever you can, you should stop by any airport, generally smaller, aviation airports are better, and then just eat lunch at the cafe at the airport. I mean even just talking to pilots, you can possibly get a free flight from them as well as advice on flying.
School doesn't really have any classes to help you out with becoming a pilot but if you were trying to become a pilot, I would say take regular physics, not AP Physics. If you take regular physics you get to learn aerodynamics, or centrifugal force, which is when you're turning, and then you feel positive G's, which is pushing you into the seat.I do take Mrs. Berbawy's engineering classes and other advanced STEM classes such as math which are helpful. All of these concepts can be taught at school, but I think I've learned more by taking the private pilot license than I actually learned here at school.
Right now, I'm training somewhere between two to three days a week. So that way, I can get the hours that I need and the training that I need to do to fulfill my pilot training requirements. Usually, each flight is around an hour to two hours. If I'm flying somewhere like cross country, that will be more like three to five hours.
About the Contributor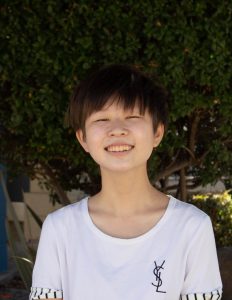 Crystal Chen, Graphics Editor
Crystal Chen is excited to be start her second year at
The Voice
! This year, she looks forward to making graphics that are weirder than muscular wheels, Mona Phillips, and kids falling off of unsuspecting horses. In her free time, she likes to play virtual dodgeball (and fail).