The Streaming Apps of the Decade
In today's modern world, gamers and games take up a large portion of today's students' headspace. Consoles are easily accessible, pirating games is always a viable option, and we can pretty much play games whenever we want. Want a game on the go? Mobile! Want a game on a laptop or PC? Steam! Want to play games at home? Console! However, a recent gaming phenomenon has exploded worldwide, with numerous streaming services emerging online. If we can't physically game, we're watching other people play. It's a win-win! We get our gaming fix, and streamers have easy access to some revenue. So today, we're going to be ranking live streaming apps (Twitch, Youtube Gaming, Facebook Gaming, Mixer, Hitbox) and comparing how they fare to one another.
5. Facebook Gaming
What can I say? Facebook has one of the highest user counts for an app in the world, but unfortunately, the success didn't push over to their streaming app, Facebook Gaming. They have fewer users and streamers than anyone on this list, and, although the user interface and streams themselves aren't of really bad quality, it's not enough to make it past last place on the list. It's not a bad streaming app, but it just doesn't match up like these others do.
Rating: 2 / 5
4. Mixer
Now, it can be argued that Mixer deserves last place on this list, simply because of its "out with a bang" type of streaming content. When Mixer signed Ninja to stream on the platform, it was thought of to be a great deal, another streaming giant in the gaming industry. However, though Ninja's debut stream numbers were outstanding(2,000,000 people tuned in!), the platform just fizzled out. Its Fortnite fanbase carried it through some dark times, but it didn't hold up. It, once again, is not an objectively bad streaming app, but it can't hold its own weight with the other streaming giants on the list.

Rating: 2.5/5
3. Hitbox
By far one of the smaller streaming channels out there, Hitbox has a small fanbase and not a lot of streamers. However, the reason it landed as number 3 on the list is because of its quality. Hitbox is the definition of underrated: It has so many great features, which make the app a pleasure to use and watch games on. However, they don't really advertise, leading to a smaller fanbase and player base than most of the apps on this list. Therefore, despite its quality, it ends up at number 3.

Rating: 3.5/5
2. Youtube Gaming
Youtube Gaming ended up really surprising me. They don't have a lot of streamers, about 500,000, in comparison to the streaming behemoth below it, but surprisingly, it's a good streaming service. It has a big game and fanbase, and often streams all types of games, like DOTA 2 and League of Legends. The recommended channels offered through Youtube's algorithm are surprisingly accurate, making the service fun to use. A lot of our favorite creators use Youtube gaming to stream as well, and these combined factors lead to a pretty awesome service.
Rating: 4 / 5
1.Twitch
There's not even an explanation needed for this one. Twitch is and will always be one of the greatest streaming services available. With an absolutely massive user base of close to 800 million people, and countless streamers generating massive revenue, the idea of Twitch is a pure gold mine. The numerous games viewers can watch, including GTA 5, FIFA, and League of Legends, offer variety conforming to every user. The categorization, numerous features, comment sections, all of these lead to the greatness of Twitch and how truly awesome and one of a kind it is.
Rating: 5/5
About the Contributor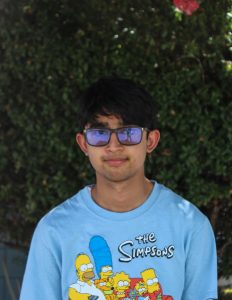 Ojas Vatsyayan, Sports Editor
Ojas Vatsyayan(11) is a second-year staff member of the Voice, this time as Sports Editor. He loves reading, listening to music, and playing tennis. If he's not doing those things, you'll probably find him outside doing something or the other. He wants to learn how to drive, but his mom won't let him. Oh, well.