Irvington Boys Volleyball Destroys Mission San Jose on Senior Night
On the afternoon of April 26th, 2022, Irvington High School's Varsity Boys Volleyball celebrated a close to their season. Having an incredible season, the boys volleyball finished with only one loss. Their senior night game against Mission San Jose High School was a blowout. Irvington won a decisive game in 3 sets. They won the first set 25-17, second 25-17, third 25-18.
To commemorate senior night, the JV team helped decorate the gym with banners, made posters, and bought gifts to celebrate all the seniors. As the evening opened, there was a ceremony to commemorate all seniors who played volleyball throughout their high school career.
Throughout the game, Irvington continuously had strong plays and blew Mission San Jose out of the water. As they played, spectators witnessed amazing saves by libero Jeremy Ha (12), incredible blocks from first year player Wesley Burns (12), and kills from Logan Ho (11) and Brayden Louie (10), that Mission was unprepared for. The evening consisted of amazing and consistent teamwork that allowed to team to play its best and achieve its desired result.
After the win, seniors spent time with friends and family, along with sharing some of their most memorable moments from being on the team. Nico Biscocho says, "The most memorable part of my last season was definitely my coach, he is someone that we always look up to." Furthermore, senior Andre Lajevardi explained, "One of the most memorable parts of the season for the entire team was the home Moreau game. We went to 5 sets and won by just two points, and I feel like that just brought the whole team together."
Being a senior, there are a lot of goodbyes, and the volleyball team was grateful for all the memories they had together throughout their high school volleyball career.
With the end in mind, this year many seniors hope to go to college and continue playing volleyball in the future. "I hope to be able to play club in college or at least play intramural or something like that," Lajevardi explains. Some of the players grew up playing volleyball and hope to keep that as a prominent part in their future.
The season now comes to a close with the Irvington boys volleyball ending in first place. The team bonded and that was shown in the way they played. "The teams cohesiveness, and the chemistry that I had with the other teammates is what really made the season,"Jeremy Ha (12) explains. Each of their personal strengths complimented the team and made it so that they were extremely successful this year. "This season was very good and one of the most memorable ones that I have coached here," Coach Colocho says.
To prepare for next year, the seniors leave with words of advice for the boys volleyball team next year. Colocho starts by saying, " I hope that the kids coming up from JV work as hard as these guys." Wesley Burns elaborates, "Make sure to come to practice, to but in your best effort, and to work hard." Nico Bisocho finishes by saying, "My advice for next year's team is to just have fun."
About the Contributor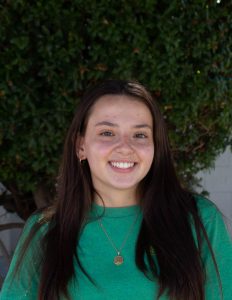 Lynnette Chavez, Photo Editor
Lynnette (11) is a second-year photo editor for The Voice Vol. 31. Other than working on the paper, you can find her playing volleyball, baking, stargazing, or hanging with her friends. She is a Utah-born Bay Area transplant. She embraces her Hispanic culture through Latin music, dancing, and MEChA.  Find her on Instagram (@lynnette.chavez)