Boys Volleyball: Challenging but Successful Season
The 2022 Irvington Boys Volleyball season was definitely one for the book! With a record of only one loss, the team ended first in their league and tied with Moreau Catholic High School. The boys ended the season by making it to NCS (North Coast Section) making it to the quarter-finals.
With a very successful season, the team had to be able to work together to adjust to the challenges they faced. The team faced a lot of obstacles with unexpected injuries and the slow decline of available players throughout the season. "Injuries and players not being able to play were some of the biggest setbacks," Brayden Louie (10) described, "We had to adapt quickly, we even brought up some players who were on JV." Through all this, the volleyball team made quick recoveries and still played their top game, carrying them to NCS.
Due to the Covid-19 pandemic, a lot of players on the team were new to volleyball or they hadn't played with each other in a couple of years. Though this was a setback at the beginning of the season, the team connected very well, allowing them to be first in their league. "We didn't really know each other well, especially because of quarantine." Jeremy Ha (12) explained, " We really got to know each other well, our chemistry is what made us a good team, and that was reflected on court."
Logan Ho (11) seconds this reminiscing, "The games are fun, but the thing for me was really the relationships with my teammates. The result was that we played better together in games, but it was the eating dinner afterwards and hanging out before games that made the season much more memorable," This season, the players leave the season with memories and new friends.
Ending first in their league allowed for some very intense matches of volleyball. An overall team favorite was at home against Moreau Catholic High School. "Winning against Moreau at home was one of the most memorable things this season. We went to five sets. It's the most exciting game I've coached here," Coach Edgar Colocho explains. With most of the players on the team agreeing with him, the boys continue to triumph over their win against Moreau.
In NCS, the volleyball team finished in the quarterfinals. "Our first game went not as well as we planned, but we still won against already Dougherty Valley. That game went to five sets, and it was our first NCS wining a few years. We next played Granada, it was one of those games that was in reach, and we definitely could have won it," Louie analyzed, "When it comes to how we played in NCS. I think we still played pretty well, considering that we were short-handed, and we were throwing in people for the JV team." Though NCS was quick, the team definitely worked hard and fought for their success throughout the season.
Overall, the Irvington boys volleyball team did very well through their entire season. "I'm really happy with our season. Through everything, we really persevered and even though our season end a little short, we all pretty really enjoyed our season," Nicolo Biscocho (12) recalled.
About the Contributor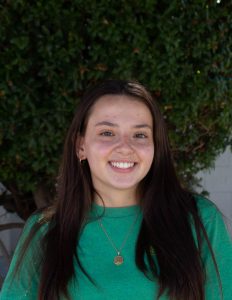 Lynnette Chavez, Photo Editor
Lynnette (11) is a second-year photo editor for The Voice Vol. 31. Other than working on the paper, you can find her playing volleyball, baking, stargazing, or hanging with her friends. She is a Utah-born Bay Area transplant. She embraces her Hispanic culture through Latin music, dancing, and MEChA.  Find her on Instagram (@lynnette.chavez)