Comic to Screen: 'Heartstopper' is a Heartwarmer
Friends to Lovers. Teen life to Drama. "Heartstopper" delivers these timeless tropes refreshingly. Released April 22, 2022, on Netflix, "Heartstopper" is an adaptation of Alice Oseman's webcomic by the same name. The show has been met with favorable reviews, a rare 100% on Rotten Tomatoes, for good reason. From elements of animation that take from art in the comic itself, a needed light-hearted tone for teen drama, masterful casting, and thematic music, "Heartstopper" presents a heart-filling story.
The dialogue, setting, and major plot points of "Heartstopper" provide a contrast to the norm of dark and edgy themes of many modern shows set in high school. Nick Nelson (Kit Connor) and Charlie Spring (Joe Locke), attendees of the all-boys school of Truham Grammar, are assigned seats next to each other in the UK equivalent of homeroom. Nick, a prominent member of the school's rugby team, persuades Charlie to join the team after seeing him run on the track, and the two grow close as friends thereafter. Nick stands up for Charlie, who is harassed for his sexuality by peers, and Charlie helps Nick figure out his identity. By the third episode of the eight, the two realize that their feelings for each other are romantic rather than platonic. What sets "Heartstopper" apart is its approach to the themes of sexuality and adolescence. The main characters are not treated as entirely subjects of the trauma of being LGBTQ+ but through their personality and interests.
For example, Elle Argent (Yasmin Finney), Charlie's friend who recently transferred to an all-girls school after coming out as trans, has storylines that focus on her friendships and growth as a person, painting her as more multidimensional than just her trans identity. Yasmin Finney, who is 18 and transgender, explained that it's rare to get a trans character that doesn't only delve into gender dysphoria, depression, or bullying. "Heartstopper", instead, also shows the positive – like building bonds in new friendships and chosen family. The choice to portray LGBTQ+ teens as more than the apparent tragedies of their identity is instrumental in the positive representation of the community. For youth, and even some adults, this type of representation can help individuals feel more comfortable in their identity instead of being scared, paving a path for self-acceptance and larger societal acceptance.
The plot of "Heartstopper", as seen on the end credits and known to fans, was adapted from a webcomic originally released on Webtoon. Even though the show is live-action, it draws from the comic's form of media by incorporating cartoon graphics in the show. These derive from little drawings Oseman had made in the margins of the scripts that were eventually turned into fluttering animations. When Nick and Charlie's hands touch, their feelings are shown through the animated sparks of electricity. When Nick is driving home after speaking with Charlie, two drawn seagulls are seen through the window, a recurring motif from the comic. At the end of the show, the seagulls are seen circling each other like love birds. The most common element that is taken from the comics and put in the show are leaves drifting through the wind, representative of fluttering emotions. The comic outlines the most important points of Nick and Charlie's journey by explicitly labeling them, through words like "Meet, Friends, Kiss, Secret". This is matched in the show but also carries on with the leaves that flutter throughout the live-action.
The casting of the show brings unforeseen talent to the screen. "Heartstopper". The star of the show, Joe Locke, is a newcomer to the entertainment industry but brings genuineness to his lines. Finney and Locke both identify similarly to their characters, respectively trans and gay. Coupled with the rest of the cast, the actors bring much-needed diversity to the entertainment industry. The cast members are also majority teens, with Locke and Connor both being 18. This makes their roles more relatable and realistic, a contrast to older adults playing teens in recent popular media.
As of May 20th, "Heartstopper" was officially confirmed for two more seasons on Netflix. The show's initial season is a heartwarming package full of good representation, discussion, music, and performance. If these virtues continue, "Heartstopper" will be a show to remember.
4.5/5
About the Contributor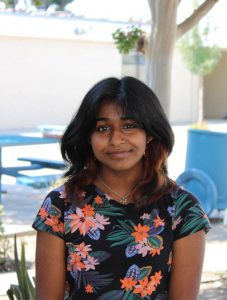 Urmi Mandal, Features Editor
Urmi Mandal (11) is looking forward to her second year at the Irvington Voice as Features Editor. She joined to find some fun and meaning out of IHS's campus before she graduates. Her pastimes include reading and painting. Find her on Instagram @urmixm.