Homecoming: The After Party
From October 17th to October 22nd, Irvington High School hosted an incredible Homecoming Week, followed by a lovely dance named The Afterparty.
Throughout the week, each class set up elaborate bench decorations centered around the theme of award shows. Freshmen displayed the Nickelodeon Kids' Choice Awards, Sophomores showcased The Sports Hall of Fame, Juniors presented The Oscars, and Seniors embraced The Grammys. Every morning at 8 AM, students looked forward to an enthusiastic morning rally held by a different class. The seniors this year were especially spirited, stormed the hallways and taking over other classes' rallies with their own blaring chants.
Each day of the week consisted of different events, including the Homecoming Court Reveal on Monday, the Lip Sync Battle on Wednesday, and the Class Dance on Thursday which was the most popular.
On Wednesday during the Lip Sync Battle, each class executed an energetic, playful performance paired with nostalgic songs to win the votes of their peers. They each had unique skits and costumes to complement their act. Teachers such as Ms. Summer Jones, Ms. Buehler, Mr. Einfeldt, and Mr. Thomas concluded the event with an entertaining performance of Wannabe by Spice Girls. After the voting link closed, it was determined that the Juniors had won with the song Baby by Justin Beiber in which a group of junior boys chased around Jeffrey Chang (11) who wore a crop top and portrayed the object of the group's affection.
The Class Dance on Thursday included dozens of participants from each class wearing their class tees and performing creative choreographies. Due to problems with ASG's voting link, the winner was decided by teacher Mr. Paul Johnson, who was asked to judge based on how loud the audience cheered for each class. Any audience applause was quickly overpowered by the loud, enthusiastic cheers from each class. The seniors were especially boisterous, swarming past Mr.Johnson and taunting the group of juniors. After the cheering ended, Mr. Johnson judged the juniors as the victors of the class dance. "We [Juniors] put in so much hard work into the class dance and I think we have a really talented class overall. I'm super proud of the Class of '24 for pulling through and supporting each other," stated Junior Class Officer & Class Dance choreographer Serena Lim (11).
As usual, Homecoming Week was also seasoned with highly anticipated spirit days for each class. Some highlights include Senior Citizen Day for the Seniors, Red Carpet/Dress to Impress/Fancy Day, and Class Tee Day. Participation in spirit days was at a record high this year, with classes feeling excited to win the Triple Crown.
"My favorite day was Fashion Disaster Day because you can just do whatever you want. There's a lot of energy this week and everyone's really excited to win," shares Barghav Balasubramanian (10).
"Senior Citizen Day was my favorite spirit day because it brought everyone together, dressing up silly and unlike yourself," reflected Cynthia Liu (12). "This week was definitely one of my most memorable weeks at Irvington because I was with everyone I grew up with, and had the opportunity to go all out on everything."
While the seniors wrapped up an enthusiastic final homecoming, the freshmen were experiencing their first.
"I did dress up once or twice for like, dress to impress," shares Jason Ngo (9), "I like walking in the hallways. Instead of seeing normal high schoolers, you see people dressed up in silly or fancy ways. It was just really cool to see that."
The logistics behind ASG executing Homecoming started early on. "I started planning Homecoming the moment I was elected as [ASG] Vice President," said Michelle Nguyen (11). "For ASG, homecoming is a bookmark for the year. It helps determine everything for the rest of the year since it is basically the biggest event."
The week before Homecoming, each event had run-throughs and rehearsals to ensure that it ran well. "I made sure there was a minute-to-minute plan of the entire event so that we were on track and budgeting our time well. We had a job list to determine who is carrying out what and communicated really well with teachers like Mr. Larsen about using the gym. We want teachers like Mr. Larsen to trust ASG when it comes to events so that it doesn't interfere with his class time," explained Nguyen (11).
As usual, ASG largely utilized Instagram to publicize everything homecoming-related. However, this year they also decided to branch out to the new platform of TikTok, where they have gotten more student involvement.
Spirit counting also shifted to a 5 Star tracking system spirit counting became more accurate due to a new. These points were added to the Homecoming leaderboard which was updated in real-time.
At the Homecoming Rally, the Rally Commisioners revealed the final spirit points awarded to each class by having class officers step forward twenty steps for every 500 points. While the seniors started off in the lead, the juniors quickly caught up with the 1,000 points earned from winning lip sync and class dance events. And finally, it was determined that the winner of the deciding 500 points After the announcement that seniors had won the bench, seniors took back the lead with 12,806 points and won the title of triple crown.
The week concluded with a Blue Out (all audience members recommended to wear blue) Football Homecoming Game. Irvington played against Moreau at their home stadium, and were defeated 6-48.
At the game, Julianna Nepomuceno (12) and Kyle Peng (12) were awarded the honor of Homecoming Royalty after winning the final round of voting.
After a highly spirited and enjoyable Homecoming Week, students look forward to future ASG events and dances.
About the Contributors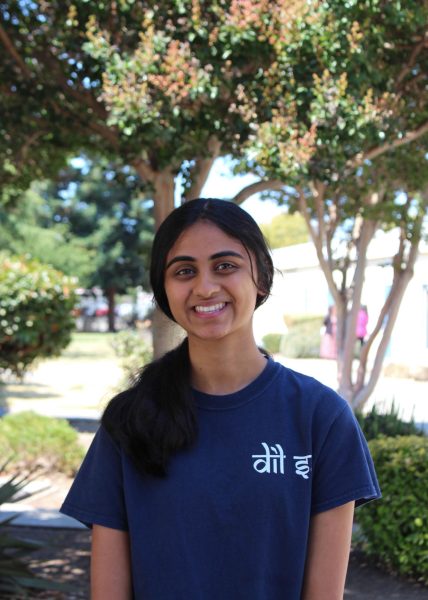 Misha Meswani, Student Life Editor
Misha Meswani (12) is excited to be a Student Life Editor for her second year in The Voice. She joined The Voice to learn more about the behind the scenes of Journalism and explore interesting people/events on campus. This year, she's excited to do more investigative journalism! In her free time, she enjoys eating Taco Bell, hanging out with friends, or listening to Bollywood music.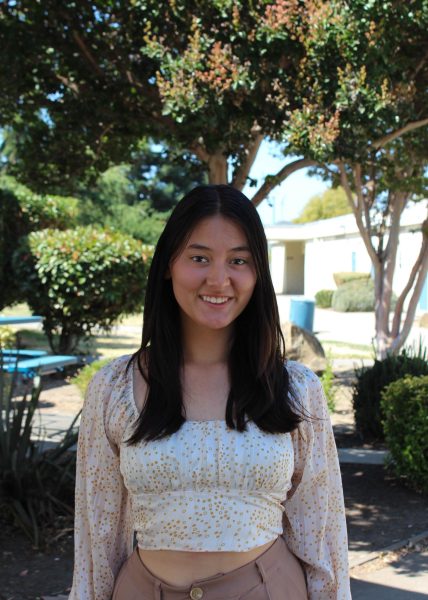 Avril Brown, Humans of Irvington High Editor
Avril Brown (12) is this year's Humans Editor and she's excited to break the wills of staff writers with an essay's worth of edits. When she's not slaving away organizing forms, she enjoys randomly belting musical theater and listening to depressing chinese songs. When she's not "going through it" in the nadir of her hero's journey, she enjoys yelling at kdrama characters for their horrible communication skills