IHS Wrestling Reigns Triumphant at Senior Night
On Wednesday, January 18, Irvington High School wrestling competed against American High School at Irvington, marking a successful Senior Night for wrestlers.
In their last home game of the season, Irvington technically scored a loss due to points racked up under forfeit matches (where competitors are given automatic wins when there is no one to wrestle in their weight category). However, including matches where both sides had wrestlers in the same weight category, Irvington won their matches by 15-12, gaining a three-point lead over American High School.
Among the seniors competing in this dual meet were Ian Piedad (12) and Harshana Jawahar (12). Others, including Allison Takara (12), Dan Malaholm (12), and Thompson Ma (12), did not have competitors in their weight category, winning automatically as a result.
The tournament had by far one of the largest audiences for an Irvington wrestling meet yet this year. Excitement filled the air. Matches for competitors went one after the other, allowing the spotlight to be placed on one wrestler at a time. Teammates on both sides cheered loudly for their peers, pushing them to win up until the final moments, be it a quick pin, like in Jawahar's match, or a more drawn-out game, like in Piedad's case.
"I was actually kind of proud of my performance," stated Jawahar, recalling her match. Jawahar worked especially hard this year, having had to recover from ankle sprains midway through the season. "Coming back, this was my first dual meet of the season. So it was really fun." Jawahar deftly won her match by knocking her opponent down with a single-leg takedown, ensuring her win in the match.
More drawn-out matches were just as compelling to watch. Piedad wrestled with an opponent larger than him, causing the match to go back and forth for nearly the entire allotted time of six minutes. Maintaining steady defense and holding his ground well, Piedad fought extremely well, barely losing his bout.
"It is part of the experience," Piedad reflected. "I'm happy I got to wrestle at all and I did my best while I was out there." As a first-year wrestler, Piedad gained insight through his match and plans to set up a better offense for future matches.
Ultimately, Senior Night was a memorable event for all. For underclassmen competing, there was tremendous growth and progress. Although wrestling is an individual-based sport, by inspiring one another throughout and fostering team spirit, Irvington wrestlers brought undeniable energy to the mat and the season so far.
"The tournament was a really good confidence boost for everyone," stated Coach Goulet. "At the beginning of the year, there is usually an extra amount of nerves that you get just going on the mat. You're unsure of yourself and don't have instinctual movement yet. Now we're towards the end of the season, and [the wrestlers] have this repertoire of knowledge, and things are becoming second nature, because we're drilling the same things over and over and over again."
The team this year also faced challenges, like being suspended mid-season, forgoing seven tournaments and two dual meets that would have provided additional mat-time for the wrestlers. Such experience is critical, especially in a high-stakes sport like wrestling, where mindset is just as important as the intense conditioning and drilling that wrestlers undergo. Ultimately, however, the tight-knit team, bonding together through training and tournaments, has stuck together, growing stronger through adversity.
"Wrestling brings out the best in people," stated Piedad. "It's not easy, but if you join and stick through it, it's definitely worth it."
As their season comes to an end, Irvington wrestling will be competing in two more tournaments: MVALs, against all FUSD High Schools, and NCS, a prestigious regional tournament. For now though, seniors are happy to cherish their exhilarating Senior Night.
"Senior Night reminded me a lot of my freshman year, where I was sad seeing a lot of my senior mentors leaving. And now I'm in that mentor position," reminisced Jawahar. "It is bittersweet, but truly a full circle moment."
About the Contributor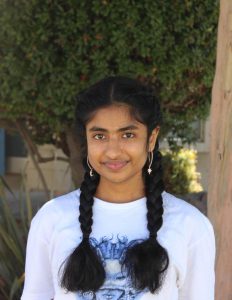 Sadhana Chari, Editor in Chief/Student Life Editor
Sadhana (12) is excited to be back for her third year at the Voice. She loves traveling, reading, and baking really badly. If you can't find her doing any of those things, she's probably aggressively playing 2048 - 3d version to replace her solitaire and cut the rope addictions.