Girls Basketball Completes Successful Season
The Irvington Girls' Basketball season is coming close to an end, with a respectable 8-12 record thus far. The team had several opportunities to play together off-season and even a few pre-season tournaments, creating several opportunities to bond with each other leading up to the regular season. "This team has always been together in any way. The chemistry has been there from the start," says leading scorer Nazaneen Hasanzada (11).
Skill coaching was an important aspect of the team's success this year and they were successful in applying them to their games as well. "We've had a lot more fundamental coaching this year. We've focused on specific skills such as driving (dribbling directly towards the basket), and now we know how to go up with contact and go through people to draw fouls. We just focus on a skill and we get better at that skill," elaborates Hasanzada.

Although the team focuses much on skills, they believe the mental and external aspect of the game are just as important. "The main thing we need to improve on is consistency. We're able to beat the really good teams. We just have to show up every game," says co-captain Maryah Abdussamy (11). "We can improve on not getting in over our heads. That's probably one of our biggest problems. If we can control that, then the game is easy," adds Hasanzada.
The most notable game for the team so far was their home game against Mission San Jose High School on Jan. 14. "It was one of our best games ever. Even though we had lost by three points, Mission is a tough team and after that game, our coach told us that he was very proud. We were listening, doing everything we were supposed to do, and everyone on the court was putting in 100% effort. It was a really big accomplishment for us," recalled Lauren Trinh (10).

Although the team had a few injuries this season, Trinh notes that "The people who had to step up, definitely stepped up. Effort was there and our commitment as well." She went on to commend one of the team's top scorers Nazaneen Hasanzada who received the title of "All-Tournament" (11), "Naz is great to have on the team, she averages at least 15 points a game and really racks up the scoreboard. She's very aggressive on defense and puts up a lot of points on offense which really helps our team."

The team had to adjust to a few circumstances this year, such as only having one senior on the team. Hasanzada reflects, "Last year we were all not really confident because the seniors were always there for us. We had a back to rely on. This season, with the number of young girls it's definitely a lot harder and a bit more of a struggle to win games. However, we've probably had the most skill than we've ever had. There's also a lot of energy on the team because of the underclassmen."

Several members said that they would miss their captain and only senior, Gabriella Currie (12) the most. "Gabbie's someone who holds people accountable when they need to be. She's the team leader and tells people what to do, what not to do, and we all just go to her to feel calm," states Naz.
Trinh as an underclassman notes the impact her captain has made on her, "Gabbie's been there since my freshman year. She's always taken me under her wing and she was a very good role model for me so I'm definitely going to miss her."

The team has three games left for this season and hopes to finish off strong. The team's only senior Gabriella Currie (12) is proud of the team and confident that they will do well next year.
About the Contributor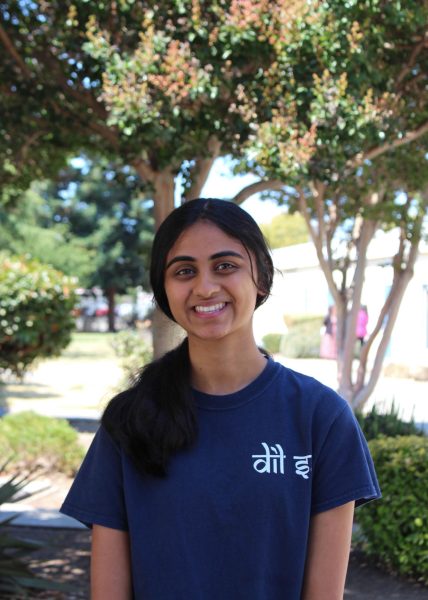 Misha Meswani, Student Life Editor
Misha Meswani (12) is excited to be a Student Life Editor for her second year in The Voice. She joined The Voice to learn more about the behind the scenes of Journalism and explore interesting people/events on campus. This year, she's excited to do more investigative journalism! In her free time, she enjoys eating Taco Bell, hanging out with friends, or listening to Bollywood music.