Everyone Should Suffer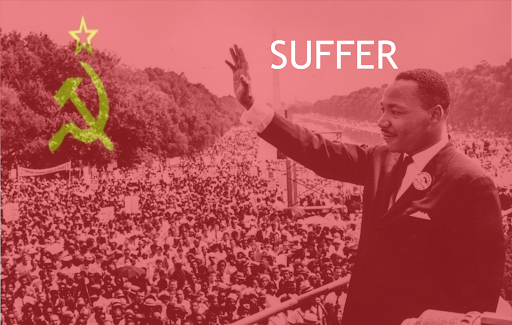 Every Christmas, some kid naively wishes for world peace. But this ignorant foolish child is BLIND–what he fails to recognize is that the world would be a much better place if everyone was suffering. Why, you may ask?Because I'm suffering too.
Most ordinary parents strive to give their kids a better life. But any GREAT parent knows to increase the suffering of their child. Suffering, despite how it seems, actually provides various benefits. Just look at Martin Luther King, Jr. He suffered and now he has a day named after him. Sure, he faced copious amounts of racism in the public eye and was probably assassinated by the CIA, but his bobblehead is only $9.99 at Target! Besides, he didn't go through all that pain and suffering just so we could take a day off from work every February. In fact, he would have wanted us to feel what he did. Texas, in all its rural cowboy glory, has already jumped ahead of the curve. In 2022, it reported a record increase in hate crimes compared to previous decades. Props to them for prolonging minority suffering!
Besides, everything's better when it's shared. So why not share your misery, too? Rejected from every college, including Ohlone? Time to get everyone else rescinded so they know how you feel. Failed a physics test? Better hack into the gradebook and put yourself ahead of the curve bestie. And if you think about it– if everyone suffers, then no one suffers!. It's the classic case of "eat the rich and then regurgitate them back, but this time, into poverty." In fact, we'd see various socioeconomic benefits from community suffering. The growing middle class would grow even further to include basically everyone. If anyone had to work a crappy 9-5, then well, so do the rest of us. It's like Communism, but with 75% less McCarthyism!
So why wait? Give others the joy of agony today! Side effects may include: increased hate crimes, racism, sexism, homophobia, and Twitter cancellations.