RedefineZ Begins New Mural in Hopes of Inspiring Unity
Irvington founded youth-run activism nonprofit focused on advocating for social justice, RedefineZ, has begun a new mural project at Irvington High School aimed at promoting diversity and unity within the community. The 501(c)(3) organization is led and founded by Phi Chanda (11), and is active in 4 different countries, the United States, Kenya, India, and Nepal, with over 300 members worldwide. It seeks to create positive change through art and community engagement. RedefineZ was founded on the principle that "students are the future voters, citizens, and law-makers of this country," says Chanda, "and I have a firm belief that we are entitled to the right of self-expression and political engagement."
The mural, located on the wall by the 200s wing and library, will showcase a diverse community, highlighting the experiences and struggles of marginalized groups such as LGBTQ+ and people of color. Initial planning and organization of funding started in October, and Chanda presented a proposal to Irvington's Associated Student Government (ASG) in November, and RedefineZ was notified of the mural's approval in late January. The project began in late April, and is estimated to be completed by the end of May.
The artwork also aims to raise awareness about social stigmas related to these communities and inspire a sense of unity and solidarity among all members of the community. While the artwork was originally supposed to be solely LGBTQ+ focused, it has expanded to incorporate a broader diversity initiative, with a wide range of different groups, including people of color, while still highlighting LGBTQ+ identities. "There have been attacks on LGBTQ+ individuals around the country, the censorship of history, hate-crimes, and a general attack on social progress," explains Chanda. "It's now, more than ever, that we need to be united against hate. "
Creating a mural of this size and scope did come with its challenges. "We expect to run into roadblocks along the way," says Rhea Cherukuri, a RedefineZ volunteer, "but our team is built on problem solvers and we will try our best to overcome them."
RedefineZ hopes that the mural will serve as a lasting reminder of the power of community and activism. Through their work, the organization seeks to inspire young people to become active agents of change and make a positive impact in their communities. "The title 'Here To Stay' is a great representative of the mural's message," says Chanda. "There are so many beautiful people on this campus who should all be welcome to stay."
In addition to the mural project at Irvington High, RedefineZ has been involved in several other initiatives, such as the period product drive. The organization has hosted community events, workshops, and fundraisers to raise awareness about issues such as climate change, racial inequality, and gender discrimination.
"While my impact doesn't seem large," says Cherukuri, "I'm lucky to be presented with the opportunity to be a part of an organization that allows students to make an impact on social issues." Through their work, RedefineZ inspires students to take action and make a difference in their communities.
About the Contributor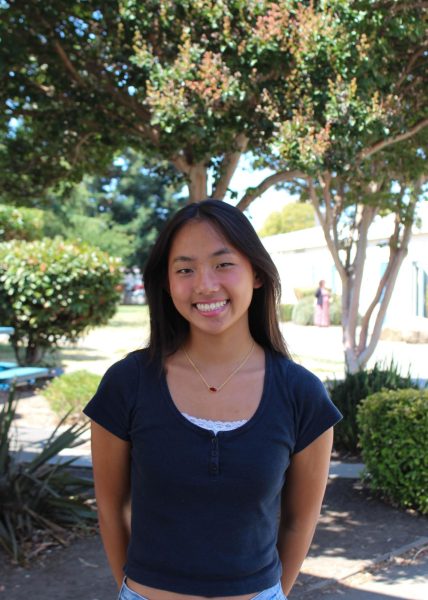 Megan Ye, Features/Graphics Editor
Megan (11) is one of the Features/Graphics editors this year and is ecstatic to spend another year working on The Voice! She spends most of her time doing her truckloads of homework, but she also enjoys cooking and will never stop talking about how much she loves Taylor Swift, so don't even get her started. Please venmo her to fund her merch and coffee addiction: @megaanye