Features
Achintya Pinninti, Sports Editor

April 15, 2019
After graduating from Irvington in 2009, naval officer Christian Tan went to UCSD and majored in Biochemistry, considering both pre-med and chemical engineering as possible pathways in the future. However, after his freshman year at UCSD, a recruiter routinely contacted him encouraging him t...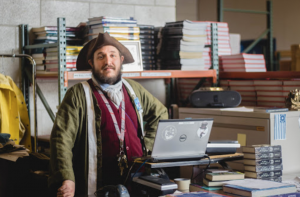 Isha Sanghvi, Editor-in-Chief

March 19, 2019
To most Irvington High School students, Mr. Ben Thompson is the campus "book man," dressed in his distinctive 18th century, hand-stitched clothing and not to mention his iconic hat. But, spend a lunch with him in his highly-organized, pseudo-library of textbooks, paperbacks, and hardcovers, and you'll realize his job as Irvington's supply clerk and lead custodian encompasses much more than "the book man" ever will.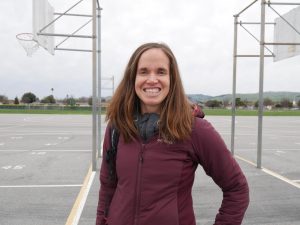 Nancy Zuo, Staff Writer

March 19, 2019
Amid the rush of students scrambling to change during the designated five-minute limit, I walk into the P.E. office of the girl's locker room. Ms. Tebow sits behind her desk, finishing up her last task before heading outside. "Welcome back!" she smiles. As a former student of Ms. Tebow...