Niners Miss Out, Thoughts on Super Bowl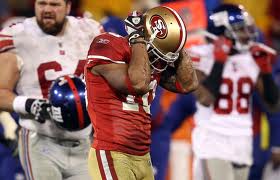 San Fran has much to be proud of, but won't participate in an exciting Super Bowl
An upsetting loss. That was all to be said after the disappointing loss to the New York Giants at Candlestick park last Sunday. The 49ers came up empty when it mattered most. After taking the red-hot Giants to overtime, tied 17 all, the Niners defense came up with a big stop, but the offense could not make anything out of it. After forcing the Giant's offense to cough up the ball again, the 49ers received the punt. However, everything went wrong when punt returner Kyle Williams had the ball stripped out of his hands, allowing the Giants to jump on the ball and take advantage of a short field. Soon after, New York kicker Lawrence Tynes sent the ball through the uprigts to send the Giants to their second Super Bowl in five years.
Some may blame Williams, who fumbled earlier in the game as well, for the tough loss. However, I see it like this: the defense kept the 49ers in the game, but the offense could not pull away. Despite the loss, a lot of positives can be taken away from this game. The Niners have proven they are a tough team, racking up 13 wins and clinching the NFC's number two seed. In an offensive dominated era, they proved that defense can still win games. Either way, 49ers fans should not be disapointed – with the offseason approaching, the Niners can surround quarterback Alex Smith with offensive weapons , and ultimately look forward to a successful 2012-2013 season.
Now to the Super Bowl. This 2007 rematch, between the New York Giants and the New England Patriots, should live up to all the hype. The Super Bowl, taking place in Lucas Oil Stadium, Indianapolis, is filled with great story lines. Giants' QB Eli Manning will be playing in the stadium his well-known brother, Peyton, built. Meanwhile, Peyton's arch-nemesis, terrific Tom Brady, will be facing his brother. The last time these two teams met in the Super Bowl, New York bested New England 17-14 in a nail-biting thriller. This year, with the Giants defense playing as well as any defense in the NFL, and the Partriots offense exploding with Tom Brady and tight end Rob Gronkowski, it will be a hord-fough battle. Don't' forget about Eli Manning either – he'll have a great game against a Partriots defense that has not been played great throughout the season. However, I have to side with the four time Super Bowl champions. My Prediction:
28-23, Patriots.