Review for the Cuckoo's Calling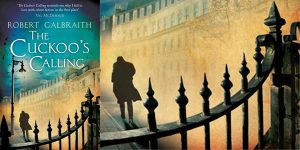 The renowned J.K Rowling writes under a pseudonym
By Shonushka Sen
From the author of the beloved Harry Potter books comes a series of crime-fiction novels, featuring detective Cormoran Strike.
The book investigates the mysterious death of Lula Landry, a young supermodel who supposedly committed suicide by jumping from her balcony. Cormoran Strike must piece together bits of information garnered from people who do not realize the significance of what they have seen, and try to coax the truth from people who are determined to conceal what they know. With his secretary Robin Ellacot by his side, he plunges into the complicated world that the late supermodel lived in and find the people who were connected to her as he looks for her murderer. Prepare for a typical O. Henry twist as Strike uncovers a long-buried family secret that began long before the ill-fated Lula was adopted into her family, leading Strike to a killer with a hidden psychological problem.
Though The Cuckoo's Calling has received widespread acclaim, and there is no doubt that it has an interesting plotline and characters, it was number 4,709 on Amazon until the author was revealed to be J. K. Rowling in July. It then climbed to the top of bestseller lists worldwide. Some public opinions include the possibility that Rowling may have "tried too hard," to make her book, in style, like other adult fiction, such as integrating swear words into practically every conversation. This detracted from the book's quality somewhat, forcing the reader to look past embellishments to find the true story. A great deal of the book's popularity is due to the identity of its author. Although Rowling has captured interactions between people quite well, there seem to be gaps in the links that connect all the characters together. They are all closed in the final chapter, but the reader may simply be left far too confused while reading.
All in all, I would have reservations about recommending this book to someone else. While it is interesting, it owes nearly all its popularity to the fact that its author is J. K. Rowling.