Chemistry Students Fill P-7 for Irvington Chemistry Bowl
Sophomore Alan Tan triumphs in final round of chemistry competition
By Matthew Chan | Opinions Apprentice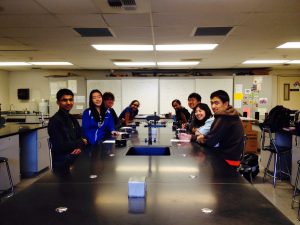 Chemistry lovers and Mr. Lee's AP Chemistry students packed into room P-7 at lunch from April 8 to 10 during STAR testing week to participate in Mr. Lee's Irvington Chemistry Bowl, designed to provide extra credit and challenging chemistry problems to Irvington's students. The preliminary round resulted in a seven way tie and a tiebreaker round on Thursday in addition to the final round.  Of the eight participants in the final round, sophomore Alan Tan won by acquiring the most points.
The Tuesday April 8 lunch session started with the preliminary round of the Chemistry Bowl. The forty students that signed up to partake in the exam packed the room to capacity. Some of the student's had to participate standing up as there were not enough seats in Mr. Lee's classroom. For fifteen minutes, Mr. Lee's AP Chemistry students answered fifteen multiple choice questions without calculators. In the end, Mr. Lee selected the top 8 scorers to advance to the final round. However, only four—freshman Anushka Walia, junior Kelsey Ichikawa, sophomore Justin Wang, and junior Shea Conlon—had scores that were decisively in the top eight, while the next seven tied for fifth. Thus, Mr. Lee decided to host a tiebreaker round to determine the final four to advance to the final round.
The lunch session on Wednesday April 9 involved the practice session for the finalists and tiebreaker participants. Unlike the preliminary round, the competitors buzzed in their answers using the Science Bowl format. With the new format, the rounds were more fast-paced and filled with interrupts—answering before the question is done asking—and fast-paced buzzer-pressing. In addition, since this was the practice session, the competitors used the same questions that were used on the preliminary test. Thus, one of the highlights of the session involved the students buzzing in before Mr. Lee even asked the question.
Lunch on Thursday April 10 started off with the tiebreaker rounds for the seven participants to see who would qualify for the final round. Of the seven, freshman Anjali Walia, junior Rohan Narayan, and sophomores Cathy Wang and Alan Tang advanced to the finals. Following the tiebreaker, the eight participants competed in the fifteen minute final round. Alan Tan won first place with a total of eight points and received a trophy that will have his name engraved upon it. He was followed by Justin Wang with six points and Anushka Walia with five points.
"When I won the chemistry bowl I felt not only joy," said Alan Tan when articulating his feelings at the end of the competition, "but also disbelief as I had not expected to win because all the other competitors were also very good at chemistry."
At the conclusion of the event, all the participants from the preliminary to the final round received five points of extra credit for Mr. Lee's class as well as the satisfaction at having competed in a school-wide tournament.