Slick and Shine Hair Salon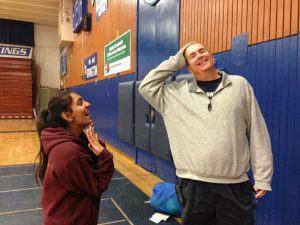 Mr. Strout's trendy hair salon BUUMing with business
By Khushi Patel
Located in the heart of the Fremont Hub, Mr. Strout's stylish hair salon, Slick and Shine Hair Salon, is the hotspot for hair of all types, even nonexistent. Strout's eclectic haircuts and styles attract a variety of customers every day, and every one of them leaves boasting the freshest, swag-iest hair in the Bay Area.
Slick and Shine started as a small barber shop operated by Strout's great grandfather, known as Old Man Strout, in the 1950s. Despite it's humble origins, Strout's efforts helped the salon grow into a buuming haircutting franchise, with four other storefronts located in New York City, Los Angeles, Chicago, and Seattle.
The most popular of Strout's hairstyles is the "clear-dyed hair," look. This look features a buzzed hair cut that is dyed clear for up to seven months at a time. Strout himself proudly wears this look along with many of his patrons. "The formula for the 'clear-dyed' look is a family recipe," said Strout. "The secret is to add just a dollop of what we call chemical X, and the hair just clears right up." This hair dye should not be made at home as it could possiblylead to major-ish side effects.
Strout plans to expand his business further by venturing to international locations. "I've been looking into hair fashion trends in other countries and I see a huge market for the 'clear-dyed' look," says Strout. "My team and I are looking at locations in France, Thailand, Saudi Arabia! Even Canada if they ask nicely!" Strout's Slick and Shine Hair Salon is expanding every day, and can transform even the most unmanageable hair into silky, shiny, invisible locks.