Officer Luevano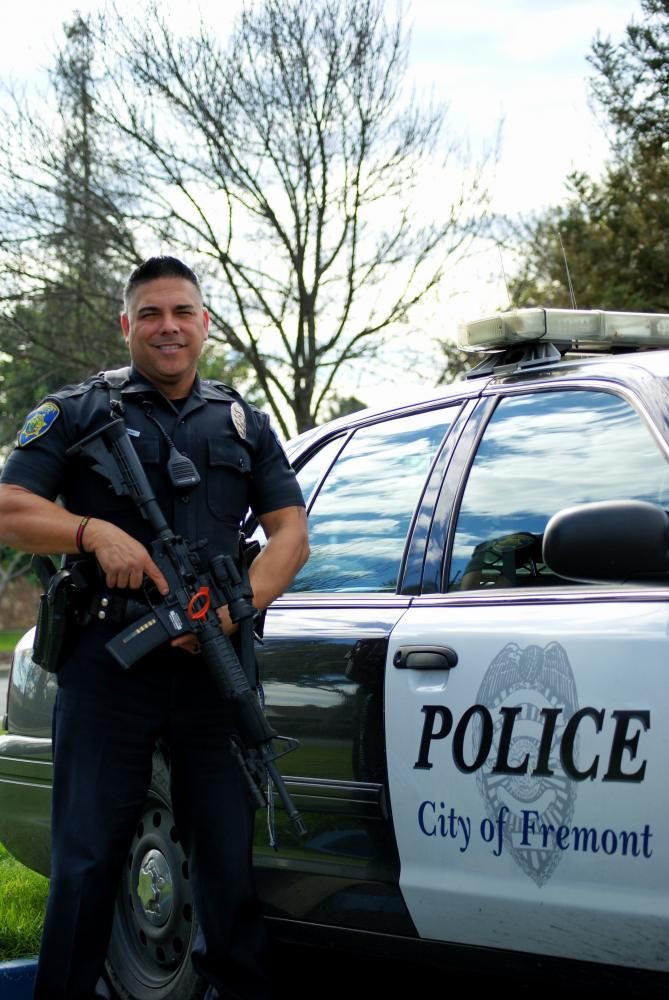 We met Officer Luevano in his office and he immediately jumped into his life story. While listening to the process that brought him to us, we looked around his office and noticed its complementary nature with his easygoing, inviting attitude.  Despite the relatively small space, Office Joel Luevano's office has a very homey ambiance, with black and white photo collages of his children participating in various activities adorning the walls as well as football memorabilia such as a Cowboys clock and framed sports magazine covers.
Starting off his shift at 5:30 AM, Luevano, Irvington's SRO (Student Resource Officer), hits the gym at the police department everyday before getting into uniform, picking up gear from the equipment room, and setting up his police car.
Before coming to Irvington on Wednesdays, Luevano attends a mandatory briefing with the other SRO officers in FUSD to discuss problematic trends and "to kick ideas around."
While answering e-mails, Luevano does into more depth about his police background and history before arriving at Irvington —he initially joined the Newark Police Department, which he worked in for nine years. There, he worked as a robbery homicide detective and as a sniper for SWAT. He moved over to Fremont because it was a bigger city.
After hearing about his background, we jump into Luevano's police car and take a tour around the neighborhood, cop style. We head over to Hirsch Elementary and Horner Jr. High, schools also under his patrol range. Satisfied that there aren't any suspicious characters around, we head back to school—but not before taking a mandatory detour to 7-Eleven. Probably the most relatable action all day, Officer Luevano picks up a bag of Twin Snakes gummies and a Vitamin Water. Patrolling is hard work, and snacks are a must. After the pit stop to refuel, we head back to campus and drive through campus in his police car, accessing unconventional places like the end of the hallways and behind the new building.
Returning back to school, we have an impromptu photoshoot with Luevano and campus supervisors Ms. Hartmangruber and Ms. Cooper before setting off on foot. We walk through the halls and peek in on classes before Officer Luevano discovers students cutting advisory in the 200s wing.
As we're walking, Luevano brings up his open door policy and his conscious effort to be in his office in between classes for anyone to drop by, despite his busy schedule.
"I'm not here looking for trouble or trying to get kids into trouble. I'm actually here to make sure the campus is safe and kids have a place to go when they're in high school and not have to worry about anything," Luevano explained with a darkened expression. "If they have any issues or problems they can come talk to me, and that's generally how I've made it."
Hopping into the next mode of transportation right when the 3rd period bell rings, we follow the 3rd period PE students running the BUUM and head around the softball fields and up the track before stopping at the office where Luevano helped Mrs. Antonacci with a distressed student.
Back inside his office, he expounds upon some of his frustrations at the stigma against SROs at the police station. He is working to slowly change the patrol division's perception of his job and its importance.
"In my position, we're treated as detectives and any case that becomes anything of length I deal with it anyways," Luevano elaborated as he reclined back in his chair and read through his e-mails. "I'm trying to bridge that gap with our patrol division to show that this position is intense and involved."
When asked about the shooting last year near Safeway, he reveals that he was one of the first officers on site. Because he isn't assigned cases and is readily on call, Luevano has an advantage over those in patrol and is able to respond quickly to any emergency situations.
Rounding off the day, Luevano further discusses the SRO position. The position is surrounded with a negative stigma at the police department because it is considered to be an easy, like "babysitting kids sitting at the high school" and on the same level as a "mall cop".
However, officers have to test to be an SRO, which includes going through an oral board panel, an oral interview, understanding school laws, and reviewing job history. An SRO can only work at a certain school for three years and an optional fourth.
"You never have anyone in this unit that didn't want to be here. It's not a punishment. This is like a detective position," Luevano beamed proudly.
About the Contributors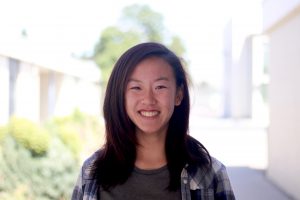 Zarah Zhao, Staff Writer
Zarah (11) is a staff writer and features apprentice for the Irvington Voice. This is her first year on staff. She loves sleeping, dogs, and fries, and also enjoys taking photos and adventuring in her free time. Her favorite places include her bed and SF. Her favorite part of the journalism process is interviewing new people for articles.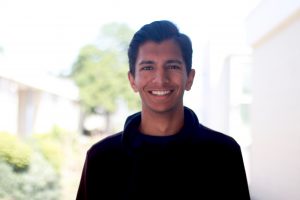 Risheek Priyadarshi, Editor-in-Chief
Risheek (12) is one of the editors-in-chief and is the features editor of the The Irvington Voice. He was a staff writer and sports apprentice during his sophomore year and the sports editor his junior year. This is his third and last year on the staff.

He enjoys gathering information when he writes articles and making layouts for the newspaper. His favorite part about the paper is when students come up to him talking about articles that they read.

He loves to run for fun, binge-watching Netflix shows, taking photos, sleeping till 9 p.m., and spending time with family and friends. He also enjoys going on adventures to new places and wishes that he had a driver's license so he could do that more often.