Author Benjamin Alire Saenz visits Irvington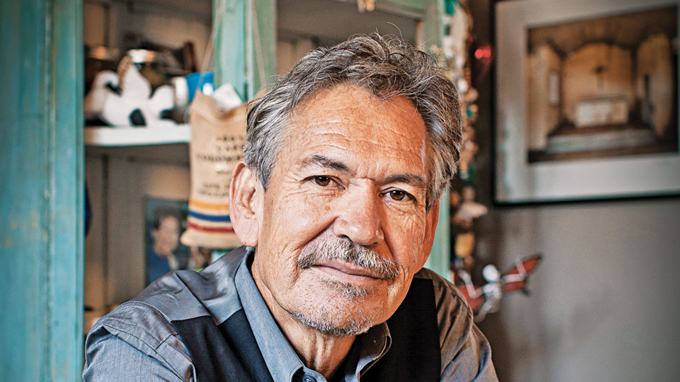 On Mon March 13, author and American Book Award winner Benjamin Alire Saenz visited Irvington to give a talk during sixth period. A group of around fifty students and teachers gathered in front of the cafeteria stage in this event organized by the Gay-Straight Alliance and Ms.McCauley. At the event, Mr. Saenz discussed his new book, The Inexplicable Logic Of My Life, as well as his childhood, his inspiration, and his views on the world today.
Mr.Saenz greeted the students and immediately launched into a narrative of his childhood on a farm in New Mexico with his seven siblings. Saenz kept his love for books as well as his curiosity and outspoken nature into high school, where he protested the Vietnam war by wearing a black armband, and worked with a group of students to petition to change the dress code. He would turn to books to escape his four rowdy brothers, and realized his ambition to be a writer from The Grapes of Wrath by John Steinbeck and Notes of a Native Son by James Baldwin.
"[Notes of a Native Son] had this beautiful anger that was almost elegant," Saenz said. "I thought, 'Wow, I wish I could write like that someday, and say things that were important and beautiful and remind the world to treat everyone the way they should be treated.'"
Before becoming an author, Mr.Saenz was a Catholic priest for 3 years. Once he quit at 29 years old, he began to work as a waiter and write books for both adults and young adults as well as and poetry. Later on, Mr. Saenz published his popular book Aristotle and Dante Discover the Secrets of the Universe, a story about two teenage boys who learn to love their families and embrace the fact that they love each other. Saenz mentioned where he gets inspiration for his characters.
"I am all of these people," he said. "They're parts of me, that's where they came from. I'm 62 years old, and I like the little boy that lives inside of me. It's a great privilege to be a writer because I tell stories of all of them."
Saenz continued on to talk about his upcoming book, a story of Sal, a white high-schooler who was adopted by a Mexican-American gay man, and his two friends Sam, a spunky girl with with a relatively absent mother, and Tito, who has to raise himself and try not to follow the same path his drug-addict mother and brother took. As a Latino gay man, Saenz spoke passionately about the importance of treating people right, repeatedly emphasizing that everyone is a human being and deserves to be treated fairly.
"I don't give people extra credit for treating me like a human being," he said. "I'm every bit as man as any other man who's ever walked this earth. The fact that I have to say that and fight for that sometimes pisses me off. But if that's what I have to do to remind people that we're all human beings and we're in this together, then I will do that."
To finish off his talk, he imparted one last piece of advice to the audience.
"When you sit down and write, don't be an entertainer," he said. "Write about things that matter. Write about things that hurt you. If what you write doesn't hurt, then it's not going to matter."
About the Contributor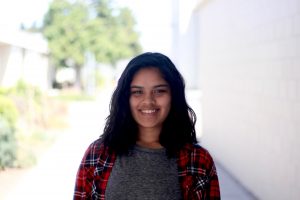 Subaita Rahman, Staff Writer
Subaita (11) is a staff writer and humor apprentice for The Irvington Voice. Her hobbies include reading, writing, watching Netflix, pretending to be funny, and being problematic. In journalism, she enjoys flashing her press pass at events like an FBI agent to get in for free and passive-aggressively roasting articles. She is always free to discuss political issues, conspiracy theories, and Harry Potter. This is her first year on the staff.