Senior prank causes extensive damage to Irvington; seniors required to clean up
On Monday morning, the final day of class for seniors and the day before final exams for the rest of the school, Irvington students and faculty came to find the school covered in chalk, oil, putty, and paint as part of the annual senior prank. Instead of going to first period, most the freshmen, sophomores, and juniors went to the blacktop while the seniors cleaned the school for around an hour and a half.
Around 11 p.m. Sunday night, an unknown number of students arrived on campus to execute the prank, which, according to the main senior prank Facebook group, originally only included chalk messages. They packed putty and glue into keyholes, spread oil in the hallways, and drew images and words, both obscene and benign, on the walls and sidewalk.
Before the late bell rang in the morning, announcements directed all seniors to the main gym, and all freshmen, sophomores, and juniors to the blacktop.
Standing in front of brooms, buckets, and cleaning supplies, Principal Sarah Barrious said to the seniors, "[I]t's not a senior prank. It's vandalism. There's permanent damage done. For those of you who weren't involved, and I know it was a small group, there's super glue and putty that will cause thousands of dollars to fix. In public education, where we already don't have money."
She continued, informing the class that there were only two daytime janitors, and that the seniors would need to clean up the campus with the supplies she had in front of her.
Principal Smoot and Assistant Principal Melissa Antonacci divided the seniors to clean certain parts of the school, though the majority of students ended up moving around the grounds to look for areas to clean. They shared cloth rags, paper towels, and spray cleaners to scrub and rinse off chalk on the ground, walls, and lockers.
The prank included a large rainbow thank-you message to AP Calculus teacher Ms. Chung (which the administration instructed students to leave alone); a green Swastika painted in the courtyard; various warnings about QUEST, Irvington's senior benchmark project; a displaced handicap parking sign; and pipes and obscene writing in the pool.
The halls were slippery with oil, which the janitors covered with kitty litter and powdered laundry detergent and later swept up.
While many underclassmen waited on the blacktop, students in the new building and the 200's wing were able to attend class. When rain began falling lightly, the non-senior students were moved to the gym, while the seniors continued cleaning.
Near 9:00 a.m., most seniors moved to the courtyard as work around other areas of the school finished. Focus turned to the large green swastika in the courtyard, and seniors crouched, shoulder-to-shoulder, in an effort to chip off the paint, which was rumored to be mixed with super glue.
The school was unable to use pressure washers to rinse off the sidewalk, which Principal Smoot explained was due to water conservation and fears of runoff into the bay, so seniors used fingernails, coins, ID cards, and metal pieces to chip and scrape at the paint.
The hallways were completely cleaned at around 9:30 a.m., and all students, including the seniors, were instructed to return to class, though some stayed behind to continue cleaning.
As the day went on, some members of the administration pulled seniors out of class or looked through confiscated phones in an effort to find the group of seniors that carried out the prank.
During sixth period, a senior hacked the marquee to show memes and a statement cancelling finals for all grades. The school reversed this prank by around 3:00 p.m.
Later, senior Allison Tietz posted about her concerns on Facebook about the way the administration dealt with the vandalism, specifically regarding the swastika.
"The issue with this is that it feels like the school is covering it up," she wrote. "Like it doesn't was us to acknowledge that we have a gross underbelly of racism and bigotry and senselessness that rears its ugly head in situations like this. In the school email sent out today about this incident, specifics about oil and flour were made public, but there was no specific mention of the swastika. No public discussion about how hate speech is not tolerated on Irvington's campus. No pictures were taken before cleanup and no police were involved other than the school officer."
Other seniors posted in the Irvington Class of '17 Facebook group, expressing their opinions about the senior prank.
Senior Mitchell Hogle wrote, "For everyone who participated in the vandalism and destruction of school property who wanted to do something that would be remembered, we're all going to remember this all right, but not in a positive light, not after having to clean up the mess caused by your stupidity."
Some seniors wrote about their concern about the beliefs represented in the words and drawings.
"I used to boast about Irvington for being one of the most accepting and tolerating high school communities in our country … but today was eye opening," senior Samiha Uddin wrote. "I am still in shock that I will forever remember my last day of high school as furiously having to scrub off a swastika off the courtyard floor."
Various other seniors wrote apologies to those who were not involved, accused their classmates of falsely naming other students, and wrote resentful goodbyes.
On Tuesday afternoon, Principal Barrious sent a LoopMail to the community, titled "No Tolerance for Hate."
"With recent incidents in Fremont that involved Swastikas, and reports of increased intolerance and hate crimes across the country, I want you to know that Irvington High School does not tolerate hate speech," she wrote. "We are a community rich in diversity. Diversity of color, diversity of religion, diversity of culture. Hate, in any form, will not be tolerated, whether it is against a group or an individual."
This story will be updated.
For videos, please visit: https://www.facebook.com/theihsvoice/posts/1557181907678694
About the Contributors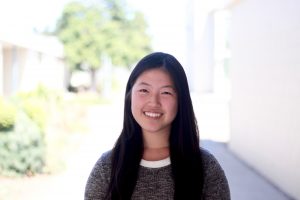 Caitlin Chen, Editor-in-Chief
Caitlin (12) is editor-in-chief and opinions editor of The Irvington Voice. She was opinions editor in her junior year, and she was a staff writer and news apprentice during her sophomore year. This is her third and last year on the staff. Being in journalism hasn't fully crushed her spirit, so she wants to pursue journalism as a career when she graduates from college. She is expecting to make very little money.

She likes watching The Office on repeat and wasting a lot of time on Instagram. She also likes taking naps and baking. If you wish to make brownies, she highly suggests this recipe: http://allrecipes.com/recipe/143667/brookes-best-bombshell-brownies/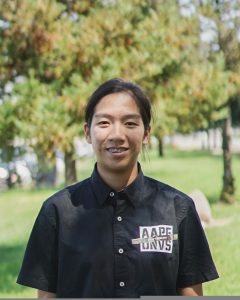 Annika Yong, Photos and Web Editor
Annika (12), is the Web and Photos Editor of the IHS Voice. She has been in journalism for three years and enjoys writing spotlights and investigative articles.