FUSD approves new NGSS science pathways for 2018-2019
The Fremont Unified School District's new science pathway under the Next Generation Science Standards (NGSS) has been met with increasing ambivalence due to the  obstacles including potential teacher reallocations and lack of facilities. NGSS, a set of national K-12 science standards, was adopted by California in 2013 and is set to be in full effect in the 2018-2019 school year.
"Through these standards, students have to demonstrate their knowledge through performance type tasks," FUSD Program Manager of Curriculum and Instruction Susan Lemke said. "Instead of just saying 'I know this,' students will be more involved with analyzing evidence. Now, there is attention to integrating science concepts so there is a basic set of standards every child needs to have."
While California mandated all schools adopt the standards, each district is allowed to create their own interpretation through a unique pathway of science classes. As according to the district, science teachers from every school came together to discuss how they wanted to arrange the standards. Parent input at district office sessions was also welcomed. As a function of these discussions, the new pathway results in incoming freshmen beginning with Physics in the Universe, instead of the previous biology or integrated science course. This physics-first model, which has been adopted by over 28 districts in California, has garnered both doubt and support from a variety of teachers.
"The pathway we've chosen works the best because Conceptual Physics starts with very direct, simple relationships and has very simple mathematical formulas which [students] can use later on in the year," Ms. Roberson, one of the few teachers at Irvington currently teaching NGSS classes, said "Once you get to biology, these interactions become far more complex and less linear. It requires a steady progression that just depends on students' developmental pathways."
Throughout the district, the excess of biology teachers and the overwhelming lack of physics teachers creates the possibility of teacher reallocations within the district. While Irvington has enough teachers to potentially meet the demand for a large incoming class of freshman, other schools such as Mission San Jose and American currently do not have enough teachers for the new pathway.
"For high school science, FUSD will be recruiting teachers with physical science credentials," FUSD Superintendent Kim Wallace said. "Many high school science teachers are in the process of obtaining supplemental authorizations and the district is coordinating training to support their efforts."
In addition to the lack of teachers, because the pathway prevents students from taking Advanced Placement courses in their sophomore years and enforces that students must take the honors version of the course before the AP course, there is increasing concern that students will not have the schedule space to pursue both electives and AP courses.
"The big question is if you can substitute an NGSS course for an AP course. If the answer is no, then in students' junior year, they would likely be taking two classes, NGSS Chemistry and AP Chemistry," current Honors and AP Biology teacher Ms. Koehler said "Under this new situation, the only way students can take all three of the main AP sciences, biology, chemistry, and physics, is if they take two of them their senior year."
The district has acknowledged this potential concern because of its implications on the Irvington's Art Magnet Program. If students must choose between taking an AP science class as an elective or taking arts, band, choir, and other electives, there is a chance that many students will choose the former over the latter.
"We are definitely trying to balance it," Lemke. "I do not know how we are going to handle Irvington's unique situation and we do not know if we will let students double up or not yet."
While dispute still stands over whether or not these standards will diminish students' ability to participate in both the sciences and the arts program at Irvington, it remains clear that the major concern at the moment is lack of facilities.
"The larger issue is not the arts magnet.  It's not going away,"" Principal Amanda Melsby said. "From a science standpoint, the bigger issue is facilities and making sure we have the lab space if students are taking more lab-based electives.We are currently working with the District to see if there are any plans to accommodate new science classrooms."
Amidst the large obstacles the District must overcome in passing these new pathways, students and teachers alike find themselves asking why this pathway is being implemented. With the new pathway, students are better prepared to take the California state science test, which helps determine Irvington's rankings.
While the pathway has been approved and confirmed by the FUSD, they are still talking to parents and teachers alike to allow for open discussion.  Students are also encouraged and invited to speak at board meetings about their own perspectives about the program.
"One of the concerns voiced both by industry and by higher education has been that students need more opportunities to develop critical thinking, problem solving, and creative thinking skills," Superintendent Wallace said. "The NGSS provide a greater emphasis on these areas. We expect students to find their science courses as more engaging and enriching and therefore may give more consideration to further their science studies."
About the Writer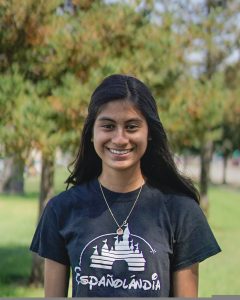 Isha Sanghvi, Editor-in-Chief
Isha (12) is the news editor and one of two, editor-in-chiefs for The Voice. Not only does she enjoy using her voice for expression through journalism, debate, and creative writing, she also loves destressing to rap and Broadway music! A human of many contradictions, Isha can either be found spitting fire bars, or trying to uncover the latest front page story.