Growing Pains Increased student population puts strain on resources and campus facilities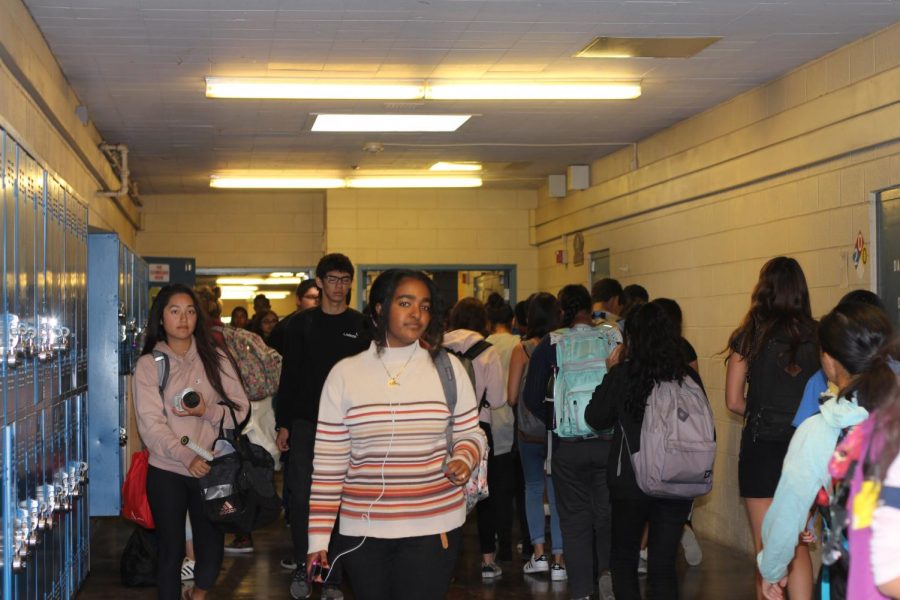 Due to increased enrollment, the influx of students at Irvington has raised questions regarding the campus's overburdened resources such as crowded hallways and facilities in the school, including restrooms. In response to Irvington High School's growing student body, the administration plans to create more shaded areas, refurbish the pavilion, and construct new buildings and facilities.
Over the past five years, Irvington has experienced a 14 percent growth in student population for the incoming freshman class as well as an 8 percent growth for the overall student population, as according published School Accountability Report Cards. This comes with little surprise as the Fremont Unified School District (FUSD) is the 22nd most populated school district in California with 35,777 students enrolled. Furthermore, in the 2016 to 2017 school year, 30 English classes, 22 Math classes, 30 Science classes, and 18 Social Science classes on campus exceeded a class size of 33 students."There has been a decrease this year [in the size of the freshmen class], but we are expecting a large influx next year," said campus supervisor Michele Hartmangruber.
The campus supervisors, Ross McCalley and Michele Hartmangruber, are coping with the increasing number of students through a formal introduction of themselves and their roles at MAZE day to ensure students are aware of safety rules. They hope this will decrease injuries from crowded areas in school. Campus supervisors are also patrolling the campus during the day and directing traffic before and after school.
"This is a large campus — it's 47 acres — and there are only two campus supervisors," said Ms. Hartmangruber. "If you notice, we have our assistant principals and our principals out in the morning helping to direct traffic and to make sure the students can get to school safely. Having another campus supervisor would be helpful."
Although the campus is large, with the growing student population, the strains are becoming more evident as many areas are becoming more crowded. "The overcrowded areas are in the cafeteria, and I see a lot in the new building because I see a lot of kids wanting to get out of the sun, to get out of the elements," said Ms. Hartmangruber. "Unfortunately, we don't have a lot of space for people during their downtime."
Additionally, students also go to very crowded areas during strong weather. Many go to the new buildings and crowd the floors, the cafeteria where there is already little space, little corners with overheads, and teacher's classrooms. A designated lunch area has not been put to place for students to occupy during the event of rain or other weather.
To combat this issue, the administration has drafted plans to refurbish parts of the school and to provide an area for the students to shelter in case of rain or to avoid the sun. "We are looking at canopies, free-standing structures to cover the pavilion," Mrs. Melsby said. "I'd like to boost up the pavilion and possibly pave some area as well."
In addition to overcrowded buildings, there is also a lack of accessible bathrooms on campus. According to the FUSD's Toilet Assessment of December 2017, Irvington is short of meeting state regulation by nine male water closets, six urinals, four female lavatories, and five male lavatories.
According to a poll conducted by Irvington High School, 91.7 percent of respondents feel that the school is crowded at times, with 56 percent reporting that the cafeteria has no space.
While the student population is ever increasing, the school administration is implementing current measures to ensure that students' safety, education, and access to resources are not obstructed.
About the Writers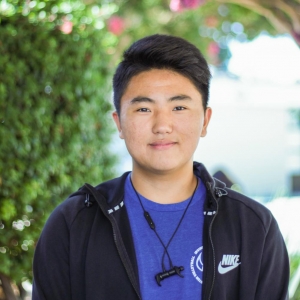 Justin Kim, Graphics Editor
Justin is the graphics editor for Volume 29. It's his third year in the newspaper and all he's done is draw some stuff and make podcasts with his friend Prahalad. Currently, he's worried how he'll make graphics without a drawing tablet.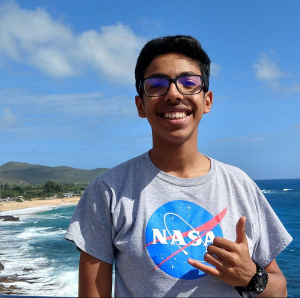 Prahalad Chari, Broadcast Manager
Prahalad (12) is the broadcast manager for The Voice, and this is his third year on the staff. He has been running the podcast "The Voicebox" for two years and won't stop talking about its "two international listeners." A self-identified weeb, he stays up past the sad boi hours binging any show he can find. This year, since everything is online, he hopes to seize the chance to stage a coup and have broadcast take over the Voice because it's the best section ever. Period.