Irvington Soccer Overpowers Moreau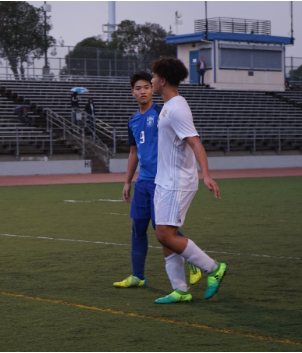 On the rainy afternoon of Jan. 11, the boys' varsity soccer team beat Moreau 3-2 in impressive fashion.
The game started slow, with the ball moving back and forth on both sides of the field. Irvington did a good job in moving the ball, passing through the defense creating multiple scoring opportunities. Captain Seungwoo Lee (12) attributes this to sticking with their game plan.
"Our game plan was to stay in our positions and pass the ball across the field often so we are not just attacking on one side," said Lee, "We did a good job on this so we were able to create some goal opportunities."
However, Irvington was not able to connect on any of their opportunities, and the score heading into halftime remained 0-0.
Both teams stepped up their intensity level as the second half began. Irvington continued to create scoring opportunities off crosses by penetrating Moreau's defense with their swift ball movement. This time, they connected. A few minutes into the half, a string of quick passes led to midfielder Abbas Vijayvergia (9) dribbling down the right side of the field. On what looked like a cross, Vijayvergia kicked the ball across the field and into the goal.
"Our freshmen stepped up this game, as this was the best game I've seen them play," said Captain Armon Olaee (12).
However, Irvington's lead was short-lived. On a Moreau counter-attack, Irvington committed a foul, awarding Moreau a free kick, on which they scored.
Irvington came back strong, scoring two quick goals back to back, both coming from Olaee. On the first goal, right-wing Musashi Avalos (10) crossed the ball to Olaee for a close-range shot. Five minutes later, Olaee scored another powerful shot. With the score 3-1, Irvington enjoyed a comfortable lead to close the game. Even with Moreau's last-second efforts in scoring one last goal, it was too little and too late.
Although Irvington did a good job on the offensive end, they hoped to work on their defense.
"We were not as organized on the defensive end as previous games, especially in the second half," said center back Kevin Xu (11).
"Sometimes we mentally turn off and don't focus, letting them dribble passed us," Olaee said, "Letting Moreau score 2 goals on us was too much."
With their recent win over Moreau, the team is now 2-8 overall. With the season almost half over, Irvington hopes to continue to keep up their high energy play, and win against the teams they previously lost to.