Day In The Life
Supply Clerk and Day Custodian Ben Thompson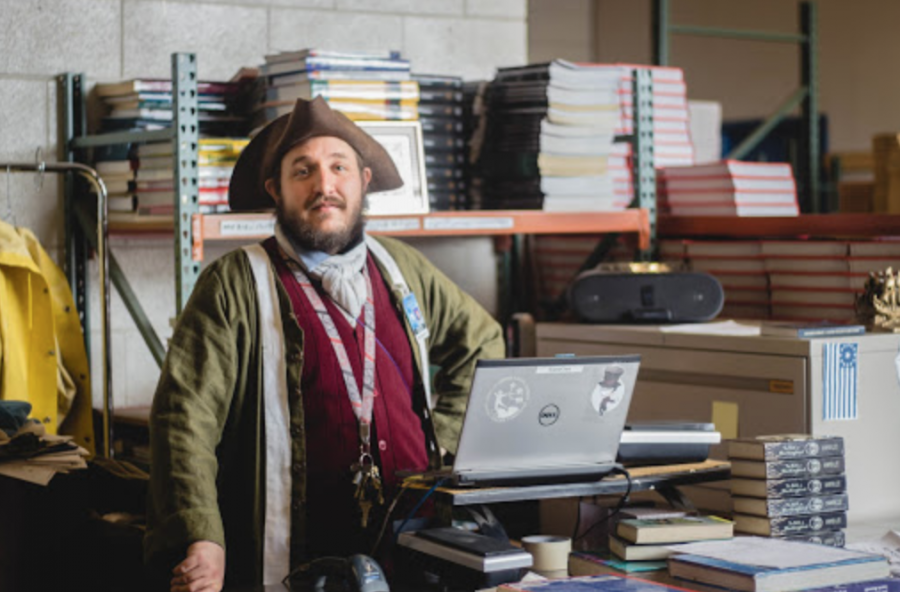 To most Irvington High School students, Mr. Ben Thompson is the campus "book man," dressed in his distinctive 18th century, hand-stitched clothing and not to mention his iconic hat. But, spend a lunch with him in his highly-organized, pseudo-library of textbooks, paperbacks, and hardcovers, and you'll realize his job as Irvington's supply clerk and lead custodian encompasses much more than "the book man" ever will.
"As a supply clerk, my three primary responsibilities are to make sure the custodial staff have all of the supplies they need to take care of the school. I'm also in charge of the all of the novels and textbooks to make sure students get their books in and out," Mr. Thompson explains when confronted with the task of detailing his on-campus responsibilities. "I am also a lead custodian during the day, so I assist in custodial responsibilities like cleaning and fixing up things."
Normally, Mr. Thompson spends the beginning of his day patrolling campus to check for broken glass or stray garbage piles. Next, he moves onto the supply room to clear out the empty boxes left by his fellow custodial staff.
But, today, an ordinary Wednesday, turns out to be delivery day. At 8:40, the delivery truck from the Fremont Unified Warehouse unloaded various requested supplies. Up until then, Mr. Thompson had been scanning through English novels, namely Macbeth, to find any signs of damage and the occasional amusing doodle from a student.
"During the summer, I go through textbooks. Then, during the school year, I do novels in between class [appointments for checking out books] to make sure they aren't damaged."
After the driver unloaded all of the items—miscellaneous cleaning chemicals, garbage bags, various equipment like mop buckets and dust mops—Mr. Thompson spent the next three hours playing tetris by fitting the supplies in the supply closet, smaller supply closet, and overflow room in 102.
After lunch, Mr. Thompson plans to pick up litter around camps and go through any packages in the office, pulling out the packing slips and keeping a record of them to relay onto the school accountant. But, as he quickly interjects, this is merely the intended plan for the rest of the day. A big part of his job is the unexpectedness, the sudden walkie-talkie call asking for him or day custodian, Arman.
"We carry around this radio and whenever somebody needs something custodial related, they call me on the radio and I have to take care of it. If someone breaks glass, they call me. If someone is sick and throws up, they call me. Or other problems I don't want to talk about, because it's pretty bad."
After half an hour of talking to him, his effortless humor seems to almost be part of the job requirement.
When asked what his favorite part of the day is, he responds "going home" with a grin.
"No, really, I enjoy just seeing everybody and coming to work," he corrects himself and gets into his history of how he became a lead custodian on campus.
After going to school as an adult parole and probation officer—only for his home state of Utah to put a hiring freeze—and working for three years at a computer company as an inventory clerk, Mr. Thompson was able to get a job at Fremont Unified as a sub-custodian. He spent a quick three months as sub-custodian and was then promoted to permanent custodian at Washington.
"Every school has its own mini culture. It's like the students have their own personality as a group. Washington was pretty destructive. They were constantly making messes in the bathroom on purpose. And, that's how I got into the position because the custodian walked in [to the bathroom] and quit right there. So, they added a new position for me," he shares. "The students left me hateful messages on the wall, like 'hey janitor, get a real job.'"
After working at Washington for a year, he moved to Kennedy. But, being a morning person—as he reveals to me—he applied to Irvington when they opened a job position.
"My mom was the supply clerk at Washington, so I helped her with her job and was always subbing in. I just took this over and did so well," Mr. Thompson beams proudly. "I was number one on the test and the interview."
The interview ends, and Mr. Thompson picks up his sewing kit and a scrap of silk fabric that will soon transform into an accessory for his hat,an activity that occupies his free time before the lunch bell rings and he will clean up the post-lunch litter or empty the garbage cans.  
About the Contributors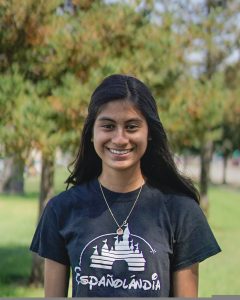 Isha Sanghvi, Editor-in-Chief
Isha (12) is the news editor and one of two, editor-in-chiefs for The Voice. Not only does she enjoy using her voice for expression through journalism, debate, and creative writing, she also loves destressing to rap and Broadway music! A human of many contradictions, Isha can either be found spitting fire bars, or trying to uncover the latest front page story.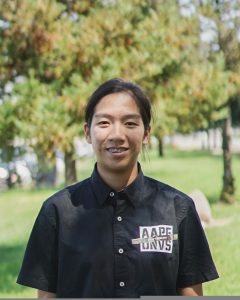 Annika Yong, Photos and Web Editor
Annika (12), is the Web and Photos Editor of the IHS Voice. She has been in journalism for three years and enjoys writing spotlights and investigative articles.