Girls' Basketball Scores Twice as Many as Yerba Buena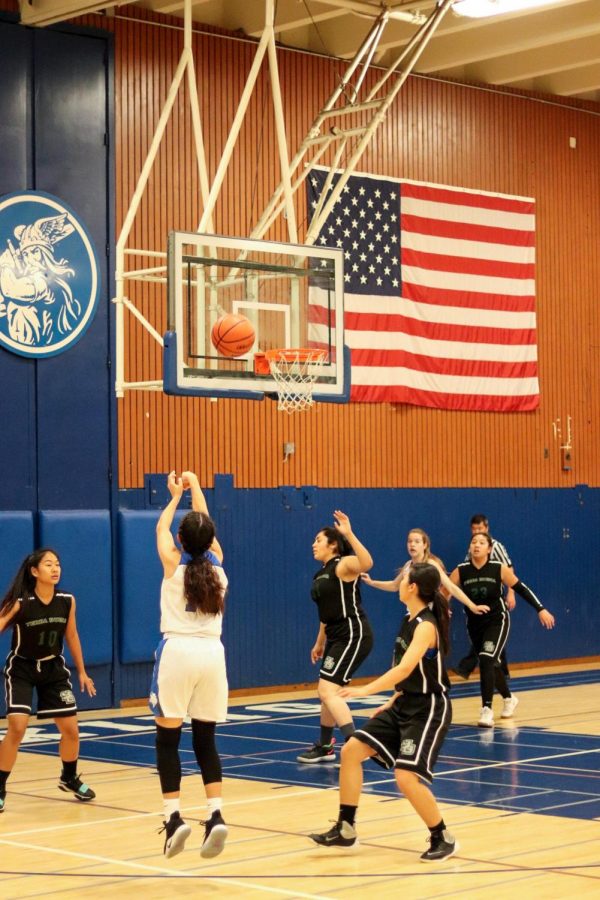 Joy Kuo, Staff Writer
February 3, 2020
On December 7th, the girls' varsity basketball team played a preseason game against Yerba Buena High School, winning 72-33. Building off the momentum from their previous win the week before, the girls entered the game with a positive attitude, focused and excited to play their best.
Starting off the game strong, the Irvington girls made effective passes to score three points in less than a minute, but the first quarter soon took a turn. Irvington struggled with numerous fouls that led to Yerba Buena scoring many points from free throws. In addition, Irvington had a few injuries in the first quarter that hindered their performance, and Gabriella Currie (9) had to sit out after twisting her ankle.
Although they faced some obstacles in the first quarter, Irvington still took the lead and greatly improved. In the second quarter and throughout the rest of the game, Irvington executed on defense well with multiple people guarding the opposing ball handler. Since Yerba Buena had trouble with passing, Irvington took advantage of their strength in defense and gained a lot of points from steals Playing aggressively, Irvington made great passes and quickened their attacks, driving the ball to the hoop and making fast break layups, staying determined to score by shooting within the key. By the end of the third quarter, Irvington led 63-28.
Throughout the game, the Irvington coaches, Coach Hagood and Coach Black, both made sure use a new rotation system that gave each player almost a fair set amount of playing time.
"Coach Black was saying how this rotation system will give players more confidence when they play, so we are trying to implement that," explains guard Annabelle Au (11). "I think it helped. It took a while to get used to it because we had just started it at the Yerba Buena game. That's the only game we used it for, and it was kind of weird to me. I made a couple mistakes, but I wasn't pulled out and was kind of surprised."
In the fourth quarter, different Irvington players were switched in and got playing time. They continued to successfully defend Yerba Buena and make efficient passes and shots. In the end, Irvington celebrated their victory with more than double the points of the opposing team.
"I think we did really well that game. We passed [to] each other very well, and everyone got their shots up. Everyone scored a little bit. Everybody contributed," said Varsity captain Tracey Du (12). "It really boosted our confidence as a whole. Going into the next game, I feel like we would do even better."
Even though Irvington overall performed well, the team understands that there's definitely room for growth. Technicality and skill wise, Irvington believes they need to improve on efficiency of full part offense, which includes finishing layups and just relying on outside shooting. Furthermore, the girls think that it is important to connect as a team.
"I think we should improve on communication," states Du. "That's a big thing like talking to each other, being loud, and especially supporting each other from the bench because that really brings the energy, If we have a quiet bench, that really shows in our game."
In order to strengthen communication and trust, Irvington looks forward to their winter break tournament in Los Angeles, where they hope to bond and develop a strong chemistry in the team. Irvington also continues to train six days a week doing full body workouts, strength and conditioning, and working on offense and defense. Both the coaches and girls are eager for league season to start and look forward to many more amazing games.
About the Writer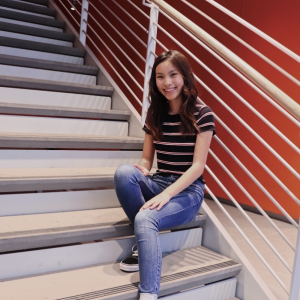 Joy Kuo, Student Life Editor
Joy Kuo (12) is joyful to be the Student Life Editor for her second year in Irvington Voice. Joy joined Irvington Voice because she enjoys engaging with the Irvington community and sharing peoples' stories. In her free time, Joy loves to take photos, watch kdramas, obsess over skincare, and drink Jasmine Milk Tea with boba (30% sugar + no ice). Find her on Instagram @jkjoykuo