New Teacher at Irvington: Andrew Kollen
"Growing up, I've always had a fascination with the past, starting with working in my grandparents' antique store in Michigan. I learned so much from my grandparents about the past and grew interested in how others lived and the historical objects they used. From [age] 12 'til 22, I worked there with my Grandma every Summer. I developed a really close bond with her. She and my grandpa established their store in 1953, in a small resort town called Saugatuck. My dad grew up working in the antique store in the summers, and I was able to as well. Being in that climate always fascinated me. Being able to interact with customers- hear where they're from, hear what they were interested in buying- [was really impressionable]. Being able to learn more about the vintage items and [discover the] value behind them was really great. But also, [simply listening to] the stories my grandmother would tell me about her childhood, and learning from my grandmother [really impacted my life].
It was a really hands on approach to history- to interact with the actual objects people used and repurpose them. Whether this be mid century furniture or depression glasses, these experiences really [captivated me].
I grew up in west Michigan, [which] is very homogenous. Most people were white and religious in the communities I grew up in. Everybody knew everyone [else]. To me, that kind of prohibits growth, because you never truly understand someone's experience and you don't know people that are really different from yourself. I think that was a big struggle growing up, because we were in this bubble in Michigan.
I had never been to California before I moved here. I just got on a plane and moved here; Now I don't know if I'll ever move back! I am very thankful and appreciative for the communities I grew up in, but I was able to recognize in college- through studying abroad- about other cultures and other histories. I had a taste of what life outside of Michigan was like, and those were different things I really valued and that I really wanted to have in my own life. So making that decision to move to California was one where I could actually practice what I preached. [I wanted to] learn about other peoples' histories and stories in a way that went beyond. I wanted to move to a place that was different from my childhood. Living in such a diverse place, in every sense of that word, has been really fascinating to me, because it has been so radically different [from where I grew up].
My teachers did a great job, but I wished that they could have done more of [engaging and empathetic teaching]. Becoming more informed people is very crucial right now, given the current climate in our country. I love when we have classroom discussions and debates, and the students are really engaged and able to form opinions that are backed up with facts and evidence.. [I want to] provide the opportunity for students to take in information- whether it is a current issue or a past historical issue- and to figure out what they believe about it and get to share those thoughts with me and their classmates. Seeing them be able to prove what they know and explain why they came to a certain belief is very powerful."
About the Writer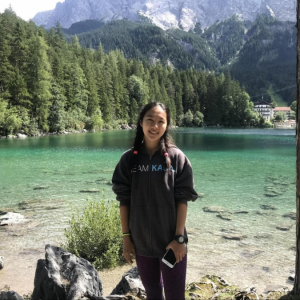 Cindy Yu, Staff Writer
Cindy Yu (11) is a first year staff writer for the Voice. She joined journalism because she wanted to explore the power of communication and the written word. In her free time, you can find her either running at cross country or running from her problems.