Christmas Reportedly Cancelled as Santa Claus Contracts the Coronavirus
On December 24, the world received the shocking news that our beloved St. Nicholas had contracted the deadly Covid-19 virus.
"'Twas the night before Christmas," said Santa Bartholomew Claus as he recounted his initial experience with the virus. "As I ordered my slaves— I mean, elves— to continue making their toys, I realized I could not smell their fear and trepidation. This was a sure sign of COVID-19."
Due to the complete lack of medical resources in the North Pole, Santa's elves were forced to improvise when it came to testing for coronavirus. Santa's head elf, Onthe Shelf, developed the revolutionary app FiveGee. This app allows the patient to sneeze into the speaker portion of their phone, where the FBI agent monitoring you through your phone can then analyze your saliva. Within 10 minutes, the user will have a diagnosis.
However, the app is still in its developmental stage and has a 40% chance of providing users with accurate results. There is a 50% chance that no result will be given at all, and now your phone just has spit in it. Additionally, there is a 10% chance that your phone will simply sneeze back at you.
Despite these possibilities, the app ran successfully and Mr. Claus received a positive COVID test. As per Santa Claus's Very Specific Coronavirus Protocol That Should Be Used In Order to Preserve the Health of Him and His Elves, or SCVSCPTSBUIOPHHHE for short, Mr. Claus elves are currently quarantining themselves. Though, upon further inspection, it seems that Santa just locked all his elves in the storeroom with a bottle of Nyquil. When asked about the effectiveness of these methods, Claus replied, "They can't get sick if they're all asleep."
Fortunately, Mrs. Claus was not required to quarantine herself as she and Mr. Claus have taken a recent marital break, and she is currently sequestered in her mansion in Majorca with Fabio, the North Pole's resident elf Instagram model.
Due to the elves' current incapacitation, Christmas as it is traditionally known will indeed be canceled this year. But, all is not lost: For the low, low price of your April stimulus check and a large shipment of elf-sized N95 masks, a Santa Claus impersonator can break into your house, steal your food, and possibly leave you a combustible rock as a gift. The North Pole put out a disclaimer saying, "North Pole Inc. takes no responsibility should a non-designated Santa Claus® impersonator commit a felony in the name of Christmas spirit."
For many parents, Santa's condition has forced them to flood retail stores to buy gifts for their children. One Target manager, P'Li S. Helpme, states, "I've started to hire people on the spot. We keep losing our employees in the mob of over-caffeinated parents."
Retail stores are taking advantage of this surge in new business: Walmart is having a limited-time-only sale on Furbies so that you, too, can experience the joy of an animatronic bird whispering "Come play with me" out of the void at 3 A.M.
However families this year choose to celebrate Christmas, they can take comfort in the fact that Santa Claus is expected to make a full recovery due to his apparent immortality.
About the Contributor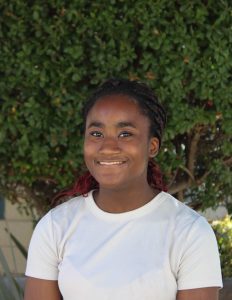 Mykal Mashack, Humor Editor
Mykal (12) is happy to be back for a third year at The Voice, this time as Humor Editor. Off the record, she likes pretending to be productive, writing, and reading. If she's not doing any of those things, she's trying not to get pulled over for her bad driving skills.