The Only Valid Gifts on Valentine's Day
Thinking of giving your partner some chocolates and flowers like last year? Well, it's time to scrap that idea and come up with something more creative. After reading the gift suggestions in this article, categorized from the S-tier to the Lame-tier, it will be impossible to go wrong on Valentine's Day.
S-tier
1) If your significant other has a spicy tooth, a hot sauce subscription is the way to go. This way, they'll never run out of their favorite tabasco or sriracha. Plus, there are many options available, including Fuego Box which is only $29.95/month. There is no other better way to keep your relationship smokin' hot.
2) Up there on the list is also a shower boba holder. We know everyone in the Bay is obsessed with the mixture of black tadpoles swimming in tea. We already take these drinks to class, our rooms, our cars, so why not take it in the shower too? The perfect boba holder is an essential and can be stuck right onto your shower wall. (I'm not responsible for any pearls clogging the drain though).
A-tier
1) Is your partner always hogging all the brownie edge-pieces? (the definitive best part of this dessert since no one likes those mushy center squares) Well, why not give them a brownie pan that only makes edge pieces? This is definitely an irresistible gift that will keep your S.O. wanting more, on the edge of their seats.
2) No one can resist the taste of the delectable octopus on some classic rice. However, rather than just giving your S.O. sushi, a more creative alternative would be sushi soap. These adorable little soaps, shaped into california rolls and shrimp that almost look edible, is the perfect gift for sushi-cravers. (Warning: do not eat)
B-tier
1) Has your S.O.'s understanding of your best dad jokes just gone over their heads because of their declining sleep hours? It's time to give them the world's strongest coffee. Don't mind the skulls on the packaging, it is perfectly safe to consume and will jolt them awake in an instant. Just one sip of this, and they will definitely pay attention to everything you say, including your amazing sense of humor. For example: What do you call a sad coffee? A Despresso. (Haha)
C-tier
1) Another present idea is an actual biological heart plushie, (since a live heart would be a little too expensive) to remind them how real your love is for them (or their $50 boba gift card). Anyways, this will definitely get them thinking about all the "fake" hearts their exes got them, and allow them to appreciate you more (this "<3″ design really isn't realistic).
Lame-tier
1) Even classics get old sometimes: kitkats, tulips, and a teddy bear? Please. I understand people who give these to others have the right intentions, but sometimes it's ok to think a little outside the box once in a while (also maybe let's not let conglomerates profit off of every holiday), and buy the unique gifts above from small businesses. They're much better anyway, trust me.
About the Contributor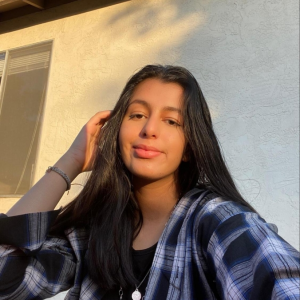 Megan Dhingra, Student Life Editor
Megan Dhingra (12) is a Student Life Editor and will be entering her third year with the IHS Voice. She enjoys going on short road trips, preferably to San Jose, because it is more interesting there. She likes to binge-watch crime TV shows and kdrama in her free time. Her IG is @megandhingra.