POV: You Got Into Stanford
Dear exceptional student,
Congratulations! It is with great honor that I, President Trump, offer you admittance into Stanford University Class of 2025.
The admission officer and I were highly impressed by your amazing and highly remarkable application that you had submitted. Your distinguished anime portfolio blew our socks off. No other applicant had submitted a full log of the animes they have completed and written fan fictions about. Truly outstanding and unique. 
Although we were sad that you hadn't linked us to your Tumblr or Wattpad, we did hire two detectives, by the names of Sherlock and Watson, to personally investigate all of your social media accounts in full depth. We received all your simp posts and read them extensively, studying the sentence structure and poetry woven into every thirst tweet. You're down bad, bro.
My presidential duties do not even compare to the amount of work you put into your application. Your 200 subscriber Youtube channel, your 1.4 GPA, and your Instagram account all display an interest in a multitude of fields, painting a vivid picture of a tortured artist, constrained by our society's cruel enforcement of normality and banality. We dig that. The amount of effort put into your fan fiction videos and posts is astonishing, it is a shame that you haven't become TikTok famous as of yet.
Out of the millions of applications, the only application we found worthy of acceptance was yours. So, we declined everyone else and dedicated the university to you and you only! We believe that you are, without a doubt, an intellectual, deserving of something higher than us, and we would be in great debt if you chose to attend Stanford University for your further education. In fact, you would like to pay YOU to attend our school.
On Friday the 13th, we invite you to join our virtual tour of the campus. We understand that you may still be on your grind of reading every Percy Jackson novel and fan fiction on the internet, as you mentioned this in your Common App. However, we highly recommend you join so that you can learn more about our facilities. We believe that you would definitely exel in our film appreciation school. In the school, students watch whatever films or shows they choose, and that's it. No writing, no essays, no grades, but a hard earned degree.
Your career path is indubitably highly regarded in the workforce, with the utmost respect given to people in your field. Imagine your life after attending Stanford University: at peace with nature and with yourself, sipping wine in Napa while trying to make it as a writer. You lay in your one bedroom apartment, or your "office" as you call it, all funded for by your parents.
We understand that you have a myriad of other university acceptance letters aside from our humble invitation. However, we would be thrilled if you chose us as your primary institution. Our offer also extends to all your relatives, pets, the spiders watching you sleep, the dust bunnies under your bed, and even silverware.
Sincerely,
Stanford Admission Officer President Trump
About the Contributor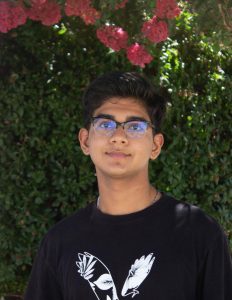 Suyash Lakhmani, Editor in Chief/News Editor
Suyash Lakhmani (12) is excited to be Editor-in-Chief for
The Voice
. He enjoys reading, watching unhealthy amounts of Youtube, and lifting. You can find him at Blaze Pizza or at Chipotle on the weekends.