The REAL reason behind Bill and Melinda Gates' Divorce (This WILL shock you!) (Shocking!) (I was SHOCKED!)
Alright, who tried to manifest a billionaire?
It seems that after nearly twenty years of marriage, Bill and Melinda Gates are getting a divorce. It appears that their split kicked off a string of relationship gossip throughout Hollywood- following their news, the Mulaneys announced their own divorce, and who can forget the Sunday when all of Twitter thought that Taika Waititi, Rita Ora, and Tessa Thompson were a throuple? Unfortunately, while we know little about the workings of those relationships, The Voice has obtained an inside scoop regarding the divorce of the Gates'. From our exclusive insider knowledge, it seems as though their marriage has been on the rocks for longer than either of them cared to admit to the public- or even themselves.
The first fissure appeared when Bill discovered that Melinda had secretly been using a Gmail account. The betrayal was too much for him to handle. Reports state that they were barely ever in the same wing of the house in the weeks after Bill's discovery. Eventually, Melinda conceded and agreed not to use her Gmail account again, unless it was an emergency and her PC was undergoing yet another mandatory systems update. Despite the reconciliation, it seemed that Melinda was still harboring some leftover anger over the event. An inside source at Google reported that the day after her divorce was announced, Melinda made around 16 new Gmail accounts out of spite.
"She was just so tired of how laggy Microsoft Word was," an anonymous source recounts, "And she couldn't handle all the online memes about how slow applications run on Windows. She is a very sensitive soul."
Sensitive soul or not, Melinda will be fighting tooth and nail for every last penny she can get in the divorce settlement, like the true #girlboss she is. You go, Melinda! Early reports show that her accusations of Bill's shortcomings in their marriage range from leaving crumbs of microchips everywhere to "neglect resulting from his efforts transfer his conscious into a computer, so that he can live forever like Dr. Zola from the ninth installment in the Marvel Cinematic Universe, 2014's Captain America and the Winter Soldier.
Bill declines to comment on the situation, although sources close to him claim that he is throwing himself into his work(becoming an AI).
While we at the Voice cannot definitively come to any conclusions regarding the two's divorce, we can confirm that it will be an interesting story regardless. Follow our website and our Facebook page for updates.
About the Contributor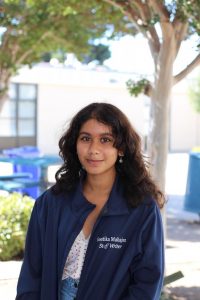 Geetika Mahajan, Humor Editor & Editor in Chief
Geetika (12) is this year's humor editor and editor-in-chief. Her hobbies include baking cakes at one AM and befriending stray cats. In her free time, she can be found scrolling through Zillow and apartments.com, getting emotionally attached to studios & lofts in New York City.