Irvington Alumni Teachers: Ariela Koehler
Hi, I'm Ms. Koehler, and I teach AP Biology and Living Earth. I graduated from Irvington in 2009, and there were a lot of things I enjoyed about Irvington. I definitely enjoyed the marching band. I played tenor saxophone, and was in the class, "We the People", and I did Speech and Debate when I was here. When I came back, I supervised debate for four years, and I focus on teaching and training other teachers now. I'm also the chair of the science department this year.
I graduated from UC Berkeley, and there's quite a few differences between it and Irvington. There's many more people, so it's a lot more diverse. Some classes are difficult, but others are really nice, because you get to take classes outside of your major, and you get to study different topics that you're interested in.
Rallies were definitely a thing when I went to Irvington. The school was a bit smaller then, so we didn't need to split up into two rallies, it was just one. When I came back to Irvington, and went to my first rally, it was very uncanny. Nothing had changed (the chants, the cheers), and they were all the same as when I went to Irvington. But it makes sense, because I was back at Irvington just five years after I graduated.
I think that competitiveness has definitely increased in recent years, and school spirit might have taken a dip in recent years. A lot of this stems from free time. Back then, people had a lot of free time to perform hobbies they enjoyed, and that doesn't happen a lot now. But in terms of what I did in high school, one of the most memorable things was probably being the first teenager on the senior citizens commission of Fremont, for youth representation. They liked having teenagers on the commission, and I think they still do it today.
If I had to give some advice for the future and for college, I would have 2 pieces of advice. First, do something that is just entirely for fun. I would also tell you to commit to it and to keep doing it. Because people are so invested in academics, this doesn't happen often, But it's also really important to have some outlet where you can do something together with friends, and you get to meet other people that way. Then, take classes that are outside of your major that you just think are fun and interesting to take. My major was genetics, but I was really interested in learning about different religions. So I took a Zen Buddhism class, Hindu mythology class, Islamic music class, and I loved those classes. They're so interesting, and it's fun to learn about other things instead of just my major.
Overall, if I had to change something about how I experienced Irvington, I would probably join another team, possibly the swim team. But I liked all the friends I made throughout high school, and I would never change that. If I could change something else, and had an unlimited budget, I would make the campus prettier too. But one thing I miss about being a student was not having to grade so many papers. I definitely miss that.
About the Contributor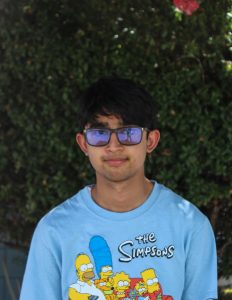 Ojas Vatsyayan, Sports Editor
Ojas Vatsyayan(11) is a second-year staff member of the Voice, this time as Sports Editor. He loves reading, listening to music, and playing tennis. If he's not doing those things, you'll probably find him outside doing something or the other. He wants to learn how to drive, but his mom won't let him. Oh, well.