Athletes of Irvington – Nicole Li
I started archery in fourth grade and competitively in fifth grade. My dad actually wanted me to start archery. He didn't have any background in archery; he just thought it was cool and wanted to put me in it. ¸
Archery isn't really a team sport, but more like a club sport. In archery, we rank and you compete at state or international level to rank up. I haven't competed in 2020 or 2021, but my highest ranking so far was in ninth grade in which I was ranked ninth internationally.
We actually went to Vegas when I was ranked ninth, so that was probably my favorite competition because I got to eat good food. I also get to meet people from all around the world and I was able to compete with somebody from Mexico and Arizona.
I primarily compete in the winter season because it's indoor archery. Indoor archery involves closer distances with smaller targets, so it focuses more on precision and accuracy while outdoor archery has bigger targets at further distances.
I don't shoot much now because it's outdoor season, but during indoor season I would shoot around one hour a day. I'm also in Color Guard which takes up a bulk of my time during the fall season which is another reason why I don't do outdoors as much anymore. It's really hard to manage, so a lot of times I'd have to structure archery around my schoolwork.
Archery is really mentally demanding because your score actually directly reflects how well you manage your emotions more so than other sports. I think I can safely say that every single competitor cries at least once. Other than that, it's really fun though. There are times where it's really hard but I think it's better to persevere and not quit completely and just find what you're good at.
About the Contributor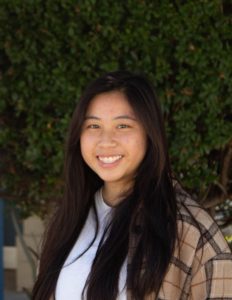 Rosalyn Weng, Opinions Editor
Rosalyn Weng (12) is the Opinions Editor for Volume 31 of the
Voice
. She's passionate about sharing her love for writing, editing, and filmmaking. She's most excited about finally being able to brutally destroy J1 kids' articles (lovingly). She apologizes in advance if she calls your writing "so bland that even Gordon Ramsay is quaking."