ASG Presidential Candidate: Julianna Nepomuceno
Why are you running for President, and what are some of your goals?
It has always been a dream of mine to become president. Back at Horner, I was the student body president, so continuing my leadership journey at Irvington and leaving a positive impact on students has been a long term goal. As President, I want to prioritize the mental health of students here at Irvington. I know that our classes can be both physically and mentally challenging, so it is important that students can learn healthy habits to cope with the pressure. One idea I have is to hold a college week at Irvington where everyone can learn about the right pathway for them. I would definitely have ASG work closer with Irvington's mental health center to provide more healthy outlets for our students.
What experience do you have within ASG, and at Irvington?
During my freshman year, I was a Freshman Class Officer. I became closer with the Irvington community by reaching out to many students within the class and to local businesses for bench building supplies. Then, in sophomore year I was LINK Director where I worked with 172 Link Leaders and over 600 freshmen. I was also able to host the very first "Links Got Talent" showcase to display the variety of freshmen talent we have. Currently, I am Rally Commissioner.
Outside of ASG, I participate in the tobacco use prevention education club, and I am also a part of Alameda County's Youth Advisory Board where I helped lead a conference called "Teens Tackle Tobacco."
What does this candidacy mean to you?
A good President is someone who can relate to their peers. I believe that I have built many great friendships here at Irvington, and I hope to give back to those friendships through leadership. I also want to cultivate new relationships with more students by being approachable and serving the student body as President.
How will you increase participation and school spirit?
A big aspect of my role as Rally Commissioner is to build spirit, and I think that I am a very spirited person who can encourage others to be spirited. In order to increase student engagement, I think it's important to publicize through word of mouth. Apart from social media publicity, it is effective to simply talk to students and build hype. For example, with the Rally Team we went through the hallways playing music and passing out candies on the last day before winter break, which boosted overall spirit.
What is one takeaway from your campaign?
My slogan is "vote for me to see brighter days here at Irvington." Essentially, I just want to see more students on campus with a smile on their face. That is my biggest goal.
Where can students find you and learn more about your platform?
Sure! I have lots of information posted on my Instagram, @julianna.nepomuceno, where you can learn more about my campaign and previous accomplishments. I highly encourage everyone to go vote, and stay involved with Irvington because you only have one high school experience, so make the best out of it.
About the Contributor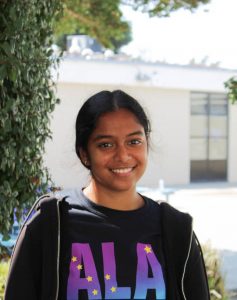 Riya Parekh, Staff Writer
Riya (12) is excited to be a first year staff writer for the Voice. She joined journalism to interview diverse people and eat good food on workdays. In her free time, Riya enjoys badgering her family members, eating Taco Bell, and spending time in her backyard.