Irvington Early College Acceptance: Ananya Kulshrestha
I got into Caltech for early action. I'm a really STEM-y person in general, so the highlight was the top STEM colleges like MIT and Caltech. Caltech is really close to my heart because of its culture and collaborativeness. Caltech has about 200 to 250 people for a class, so it's a small collaborative community, and you basically know everybody. When I learned that Caltech is super STEM-y and research-oriented, but at the same time, there's a good sense of community and good support for women in STEM, I became really drawn to the college.
I talked to people from class of 2021 and some from class of 2020 about what they learned out of the college admissions process, what they recommend, and what they don't. I asked around February or March because most of the decisions started coming out through regular decisions. One of the things they really mentioned was, don't procrastinate on your apps. Everyone at this point has heard that, but I just didn't want to be the one that heard it and didn't do anything about it.
I started planning what colleges in around April to May, alongside AP tests and stuff like that. I was like, let's do some lightweight college work. And I was like, okay, MIT, Caltech early. Sounds like a good idea.
Caltech doesn't admit by major, but I applied as a math major because I have a huge interest in that. I took a look at some of the supplements and arranged my Google Drive. Then I started doing my early action essays throughout the summer. For me, it was easy to review the application, fill out the common app portal, and submit two weeks or one week before the deadline.
I really didn't think I was gonna get in because Caltech is such a selective school. I just applied because I felt like if I didn't take a shot, I would regret it later. As far as I'd heard for Caltech in particular is that if you don't apply early on, there's a really low chance of getting in because by regular decisions, all the early action people get in, and then there's less spots left. So I was basically set on doing early action.
The decision came out at 6:20am on December 18. I got a message from one of my friends that Oh, my God, decisions are out, and I was in bed. I woke up and I was like, Oh, okay. Then my mom came running because she was so tempted that she opened my portal. There was confetti and then she was just like, oh my god, you got into Caltech and I was like, There's no way. So it was impossible, I felt, but there's a possibility and that gives me hope for all my other friends that applied this year. There's a lot more capable people in our grade that might have maybe gotten deferred early, but in regular decisions, I know they will fly with different colors.
One thing I would recommend for everybody is to reach out to the people they know that have already gone through the admissions cycle. For freshmen, sophomores, and class of 2023 maybe start planning out their college apps, like what to do and talk to people from previous classes. Figure out what you can do to have a good profile, not just for college, but also develop a passion in general.
For me, what mattered is I had a passion for math. I followed everything in. For Irvington math club, I went from Secretary to VP to president over the years. I also found an interest in research. For me, it wasn't so much about college; it was about learning experience and collaboration. I worked on a paper after sophomore year, and we got it through. It was a long process. But at the end, it was really fun, and it dispelled a lot of myths I had that research is tiring. When I did everything in the math field because I liked doing it, I think some colleges, like Caltech, really liked that. They were able to see my passion for it and hence decided to accept me.
About the Contributor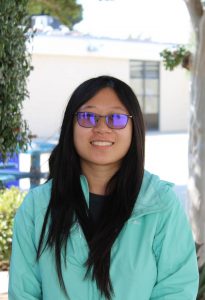 Nichelle Wong, Staff Writer
Nichelle Wong (12) is a staff writer for the Voice. This is her first year here, and she looks forward to expanding her repertoire outside of creative writing to include journalism. In her free time, she enjoys folding origami and planning imaginary conversations.