Writers of Irvington High: Jonathan Cheng
My name is Jonathan Cheng and I am in grade 12.
When I was in middle school, I loved reading books, especially young adult fiction. And so, as I read more books, I grew more curious as to how others grow. So I tried writing short stories of my own, and that kind of led me into more creative writing in high school.
My seventh grade English teacher, Mrs. Snow, really inspired me not only to love reading, but also to love writing. I'd say because of her, I gained a lot of interest in creative writing. In High School, I would say my English teacher Ms. O'Connor also encouraged me to write creatively. We had one writing assignment called a descriptive essay, where we got to write an extended metaphor, and I think that was a really great creative writing exercise. I've submitted a couple of works for the creative writing club, like their Penchant literary magazine. I've also last year I did this online micro-fiction contest called Flash Fiction Friday, and I even won a couple times. But some of those prompts for the contest, where they ask you to write a story based on a word, are really strange. So I really had to think outside the box in order to connect them to the word which was organ. Many people thought of the instrument, but I chose to think of it literally as like a human organ.
I think when it comes to writing a story, characters are probably the most important part of your story, because you want your readers to somehow relate or learn something from your characters. I think that while the plot is something that readers may forget after a while, they'll always remember certain impressions of the characters.
I think writing is cool because you're learning how to express yourself. When you're writing, you're the author so you get to paint your own universe; you get to create all the rules. You have a lot of flexibility in what you can write about. When I get writer's block, I would set my mind off the task for a couple of minutes and take a short break. I'll sometimes get random moments of inspiration when I'm listening to music or reading another book. Writing really is a really time consuming process. Sometimes you're not able to get the words and sentences out. And so you end up staring at a blank document for a long time. It's also really easy to like to write something down, and then immediately think it's terrible and delete all of it and restart.
About the Contributor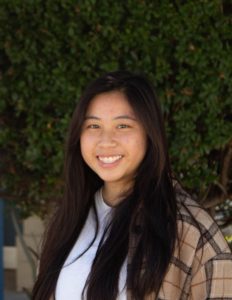 Rosalyn Weng, Opinions Editor
Rosalyn Weng (12) is the Opinions Editor for Volume 31 of the
Voice
. She's passionate about sharing her love for writing, editing, and filmmaking. She's most excited about finally being able to brutally destroy J1 kids' articles (lovingly). She apologizes in advance if she calls your writing "so bland that even Gordon Ramsay is quaking."