Board Weighs Funding Allocations, Masking Mandates
During the Feb. 9 and Feb. 23 Board meetings, the Fremont Unified School District (FUSD) Board of Education brought up recent COVID-19 and school funding developments. The Feb. 9 meeting focused on allowing vaccinated parent volunteers back on campus and allocating Measure E funds for school improvements; the Feb. 23 meeting included information about the masking mandate.
Agenda item 15.1 was COVID-19 updates for schools, focusing on volunteers. Previously, volunteers were not allowed on campus due to pandemic restrictions. Most of the discussion centered around parent volunteers on elementary campuses, but the topic includes volunteers for junior high and high schools as well. The Board unanimously voted to allow for the return of volunteers.
Additionally, student representative Tushar Dalmia (12) from Mission San Jose High School asked if COVID-19 contact tracing emails could be sent to students as well as parents. Superintendent CJ Cammack said further discussion with the COVID-19 team and school directors would be required.
"It may be a good notice for some high school students but maybe not for some of our middle school students," explained Cammack. "We'll have to look at the developmental level of our student population and see where it might be appropriate."
Effective Feb. 16, the indoor masking mandate was removed for Alameda County; however, this does not apply to schools yet. Superintendent Cammack elaborated on this topic during the Feb. 23 meeting.
"[Our case numbers] are higher than they were pre-Omicron, but they're coming back down," said Cammack. "For example…we had days with cases in the hundreds; we were today back down to 17."
Though this is still relatively high compared to pre-winter break cases, the decrease opens up the opportunity for potentially removing the school mask mandate. Future guidelines will be announced after the California Department of Public Health (CDPH) presents its recommendation for schools on Feb. 28. As of now, the school masking mandate remains in place.
In the Feb. 9 meeting, distribution of Measure E funds was mentioned as well. In 2014, Measure E was passed by Fremont voters to fund construction and classroom improvements in K-12 school districts. Proposition 51, a school funding plan passed by California voters, provides reimbursements for such improvements.
The current proposal is to use $20,853,749 of the reimbursed money for TAK stadium maintenance, a Hirsch parking lot, modernization projects, and deferred maintenance construction projects around the district.
At the board meeting, speakers discussed conflicts over the proposed fund distribution, highlighting other aspects they believed should be prioritized. Some included updating elementary infrastructure, adding a cricket field, and repairing roofs.
The lack of a cricket field was a major concern for many students and parents. They spoke about how cricket is their or their child's passion, but without a field, it is very difficult for students to practice. Because other sports have official practice areas, cricket deserves one as well. This created debate over fund allocation: other speakers believed the money should be used for essential repairs rather than other projects.
Items on the list that would affect Irvington include the addition of a backstop for the baseball field and covered areas for students to sit when eating. However, there is currently no plan to approve funding for other improvements.
Student representative Zayaan Khan (12) spoke about allocating more funds for Irvington campus improvements to better the student experience. Examples include improving lighting, fixing bathrooms, and creating a turf field for Irvington athletes to train properly.
The Board ultimately did not reach a decision on whether or not to authorize the funds for their current proposed uses. There are plans for more research and discussion to occur before a final decision at an unspecified later date.
The next Board meeting will be held on Mar. 9, and school updates for COVID-19 will be addressed then.
About the Contributor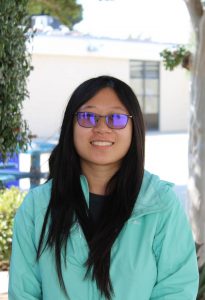 Nichelle Wong, Staff Writer
Nichelle Wong (12) is a staff writer for the Voice. This is her first year here, and she looks forward to expanding her repertoire outside of creative writing to include journalism. In her free time, she enjoys folding origami and planning imaginary conversations.