Humans of Irvington High: Sri Adithe and Careers in Entertainment
I'm Sri. I'm an actress in the Bay Area and I am in 11th grade.
My grandfather Rallapalli Rao is my biggest inspiration for acting. He used to say he was my biggest fan when it came to anything I did, and he would cheer me on in everything I tried out artistically.
His range of emotion, talent, and energy in performance inspires me to project that level of energy in my work. I have always wanted to be more able to portray emotions like him–really loud and proud for the audience to see.
I want to go generally in the entertainment field and more specifically acting because I feel like I can express myself more creatively through it. Other than acting, I want to do something like animation, visual effects, or something else in that realm. I'm definitely set on acting as one of my passions, though, since I've really been attracted to acting and film since I was a kid. Most likely, I'll end up pursuing acting along with something else on the side.
I try to tell stories that I can fully understand, because those are the stories that interest me. I also feel like I can excel the best in that, which is why I generally write those. I usually write teen fiction and romance, but I do try different styles of writing such as a sci-fi dystopian audio drama that I'm working on, "The Bus". A while ago, I also started working on "Teen Comedy", which is sitcom styled and I am producing that one right now. It's hard to work on those with school which is why I'm looking forward to summer when I can film a more musical-style drama.
I'm in the school play "Charlie Brown" right now and I also do Scenebot auditions every month, which is a software with monologue competitions. My first actual performance was in seventh grade when I was in the drama club and we did a self-produced show. That was the first time I wrote and performed a script and I've fallen more and more in love with acting ever since.
I have also had the opportunity to act in the Kaiser Permanente film which was incredibly interesting. Being on a film set, bonding with these actors, and going through so much was so crazy and fun. I especially enjoyed having my hair and makeup done and I was also in a scene where there was smoke in my eyes from the fire scene which was so exciting.
Being Indian, it's really hard because no one wants to cast an Indian actress and oftentimes, they're looking for people who are white. I find that I don't find the right demographic but when I am, I'm always cast as the sporty best friend or the tomboy. I never get to play exactly what characters I want but I hope to be a part of the change in the field.
My advice for people who want to pursue acting is to first work on your craft. If you're really serious, get an agent and continue studying hard in school as a fall-back in case acting doesn't work out. If it's your passion, you should follow it, but again, try to make sure you have something else if it doesn't work out.
About the Contributor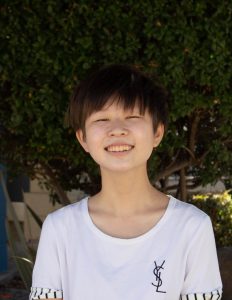 Crystal Chen, Graphics Editor
Crystal Chen is excited to be start her second year at
The Voice
! This year, she looks forward to making graphics that are weirder than muscular wheels, Mona Phillips, and kids falling off of unsuspecting horses. In her free time, she likes to play virtual dodgeball (and fail).