3/9 FUSD Board Meeting: Updates On Mask Mandates, Service Hours Req Suspension, and More
On March 9th, 2022, the Fremont Unified School District (FUSD) Board of Education discussed future plans for the mask mandate, as well as updating the absence policy to include mental health days and increasing the diversity in the 7th-12th grade English literature collections. The board voted 4-1 to make masks suggested but optional, following state guidelines, and 5-0 for allowing mental health reasons for excused absences, and 5-0 for increasing the diversity in required reading for 7th-12th grade students. They also voted 5-0 to suspend the required service hours for graduating seniors as a result of concerns that many students (more than usual) had not yet completed their service hours.
The meeting agenda started with open comment speakers giving mixed opinions on various problems they had faced in the school district, before moving on to discuss mask mandates. Going over California's current policy of "strongly recommending" but not requiring masks in indoor settings, speakers raised various concerns about how the district should proceed. Many of the speakers mentioned safety concerns about COVID and infectious diseases in general, and suggested keeping the mask mandate. On the other side of the issue, some speakers mentioned personal struggles their families had faced with wearing masks in school- there were parents who raised a concern about how masks made it so their children weren't able to learn as effectively, especially for people in speech therapy who benefited from being able to see mouth movements from their teachers. After all the speakers brought up their opinions, the board voted 4-1 to follow California's COVID policy following discussion with the California Department of Public Health, which responded stating that "Masks are strongly recommended for 10 days after known exposure and 10 days after infection if completing a shortened isolation." This new update to mask guidelines took place on Monday the 14th.
Despite the change to mask guidelines, Superintendent CJ Chammack emphasized FUSD's role in providing resources to keep the community safe. This includes PCR and antigen testing at 46 different locations weekly, and N95 masks for staff and students when needed. These resources will still be available for those who want to utilize them.
SUFRBoardE also proposed having mental health days as valid reasons for excused absences. This proposal brought up California's SB-14, which was passed in October 2021, and already legalized mental or behavioral health as valid reasons for absence. According to absence policy, missing more than 8 days of school (4% of school days) will call for a doctor's note and possible meeting with school administration, and missing 18 days of school will mark a student "truant", though it depends on circumstance. All 5 speakers advocated for mental health days, bringing up how students had to make up excuses of physical illness in order to take mental health days, and how normalizing mental health days could reduce stigma against it. There was no vote as mental health days should already be included in the absence policy as a result of the passing of SB-14, though the school board unfortunately did not address this before.
Another important topic of discussion concerned service hour requirements for the senior class of 2022. According to the board agenda, "seniors and juniors need 20 hours to graduate, sophomores need 30, and freshmen need 40". Following speaker opinions that it was hard to meet this requirement, as well as a statistic brought up by Trustee Prasad that "for class of '22 ,over 1,000 students…have not completed [their service hour requirements]", which is more students than usual. The board still unanimously agreed and voted 5-0 to suspend the 20 hour requirement for seniors. Service hour requirements for the other classes were not involved in this vote.
The last item on the board meeting agenda was a discussion on English classes and the lack of diversity in required reading for 7th-12th graders, with a new core literature collection proposal proposed by Kim Kelly, the Director of Curriculum & Instruction. The current collection has 26 books in total, 16% of which are from female authors when looking at gender, and 92% of which are from European/European American authors when looking at their ethnicity. According to Kelly "We've heard from all sorts of different places…saying 'there is not enough diversity in the novels…they don't reflect the diversity of our community' and that was true of our current collection". The new proposed literature collection has 12 books, focusing on different genres and experiences. Some of the new books proposed include "Inside Out & Back Again" by Thanhha Lai, "Born a Crime" by Trevor Noah, I am Malala" by Malala Yousafzai and Christina Lamb, and more. There will also be a collaborative feedback loop setup for this system in order to review the opinions of the community. The board voted unanimously 5-0 again to accept the new literature curriculum.
Overall, FUSD will be implementing many new changes to curriculum and the administration moving forward. The next board meeting will be held on March 23rd at 6:30pm, following the same pattern of having board meetings on the second and fourth Wednesdays of every month.
About the Contributor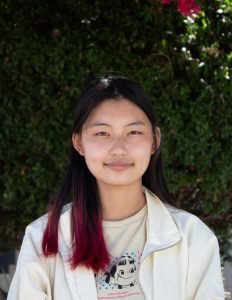 Emily Shu, Entertainment Editor
Emily Shu (11) is feeling strangely very optimistic about the current school year, despite being a junior now. This will be her second year with The Voice, and she's super excited to be an Entertainment editor. In her free time, she enjoys consuming an unhealthy amount of caffeine and debating whether or not it's worth staying up late at night before a school day.