Indopak's Bollywood Night Blasts Beyond Expectations
On Friday, October 14, IHS Indopak hosted its annual Bollywood Night in the Irvington Courtyard. The event started at 6:30 PM, but amidst extremely long lines, people were admitted inside around 7:30 PM instead. There were over 300+ tickets sold, more than any of the Indopak officers even anticipated. Indopak made a profit of about $600 after spending a little less than $500 on Bollywood Night. The event was attended by Irvington students, 130 high school students from other schools in the Bay area, and faculty like Mr. Ballado, Principal Hicks, and Mrs. Sharma present to supervise.
The Courtyard was beautifully decorated in a blue and gold color scheme sporting balloons, various posters, and other Indian-themed decors. The event was filled with people taking pictures with the decorations and signs, students lining up to get food (pizza, samosas, and soda), and crowds of people dancing and enjoying the music. Everyone was dressed in vibrant Indian clothing from lehengas to kurtas and lungis.
"We had started preparing 3-4 weeks before and had to take care of a lot of little logistical things from finding teachers to supervise to ensuring we had backup plans in case anything went wrong," Indopak President Anika Kanhere (12) explained. "Overall the event went really well—it just keeps getting better and better—it went from like 30-40 people my freshman year to over 300 this year. "
Around 8:00 PM, Indopak's 4 dance teams (Soor, IBC, Sitaare, and Natya) began to perform. Each performance was about 1-2 minutes long introducing each of the dance teams and their new members for the first time, with only a week to choreograph, practice, and perform, the teams put up an impressive display. Sitaare danced to All Izz Well, Soor danced to a mashup of Kamariya, Chogada, and Dhol Bhaje, Natya danced to Sun Saathiya, and IBC danced to So High. To create such synergetic dances, teamwork was ultimately key.
"I felt the timing was a little tight, but we made it work," said IBC Captain Chehakdeep Kaur (11). "We practiced over flex and after school to make sure all the timings were right and everyone was in sync". For future performances, the dance teams hope to improve upon the execution of dances though, which comes naturally with time and practice.
After the performances, everyone assembled in a mosh pit and danced to Bollywood music. The final song, Badtameez Dil, ended with the entire crowd chanting "One more! One more!" With high energy and dancing, most enjoyed Bollywood Night, considering it an overwhelmingly positive experience.
"My favorite part was when they played Naatu Naatu!" said Anjali Garg (11). An integral part of the experience at Bollywood Night was the music selection and Indopak definitely delivered by playing some fan favorites.
"I felt like I had a lot of fun, I got to hang out with all my friends after school and as a guy who is into Indian culture, it represented the culture really well, but I wish they had more Indian food," noted Khush Balala (12). The entire event was similar to an Indian-themed homecoming and served as a way to unite a lot of people with an appreciation for Indian culture.
The success of Bollywood night is best echoed by Anya Bhatia (9).
"I look forward to attending Bollywood Night next year and can't wait for Dil Se!" she stated. Stay tuned for Indopak's other events including Dil Se.
About the Contributor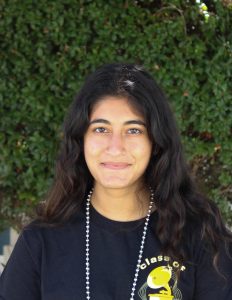 Mahika Modi, Web Editor
Mahika Modi (12) is excited to be this year's web editor. In her free time, she likes to binge-watch random TV shows, hang out with her friends, and stay up till ungodly hours scrolling through tik tok. Her other hobbies include making Spotify playlists for almost every occasion, and she hopes to spend her weekends making day trips to go skiing.