Decorated Doors for Día de los Muertos Dazzle Students and Staff
On Tuesday, November 1, all of Irvington's foreign language classes attended Mr. Ballado's classes' and MEChA's annual Día de los Muertos celebration in the cafeteria. This year, to expand the celebration across the school, Spanish teachers decided to have their students decorate doors on campus in addition to the annual cafeteria displays and decorations.
The Día de los Muertos event successfully taught students about the holiday and Mexican culture through intricate displays. Altares, or altars, honored MEChA members' loved ones and surrounded the center of the cafeteria. MEChA members' catrinas, skeleton ladies symbolizing death, wore traditional and modern costumes. The event featured performances for each period, too: MEChA's Sazón Latino danced baile folklórico, and Irvington alumnus Ampelia Gomez returned to perform "La Llorona," "Cielo Rojo," "La Bikina," and "El Triste" throughout the day.
Additionally, students appreciated interactive activities during the event in the cafeteria. This year, MEChA hosted a Kahoot! game.
"I really liked the cafeteria decorations. I thought that they were very unique and cool," said Maya Bhimani (10). "Each ofrenda had many different cool things. The one that had the chicken sandwich was very interesting!"
Organizing the successful event, however, was not a linear process. MEChA and Mr. Ballado's classes began work at the beginning of the year, but progress felt uncertain in the final stretch toward the event.
"There was a point when we thought, 'is this gonna happen?'" described MEChA Event Co-Coordinator Jesus Riestra (12). "There was a week left."
According to MEChA President Korine Zendejas (12), MEChA could not confirm a location for the event.
"We thought we wouldn't be able to use the cafeteria, and then we could use the cafeteria," said Zendejas. "So it was just like, finding out what was going to work for us in the end, and then just making it work."
Fortunately, MEChA was able to make the event a success.
"We got all hands on deck, and we pulled through," described Riestra. "And it was great."
Not only did Spanish teachers decide to include other foreign language teachers in Día de los Muertos festivities this year, but they exhibited Mexican culture to the whole school. Students decorated doors with paper skulls, marigolds, and other Día de los Muertos symbols, but also displayed their creativity. For example, Room 261's door featured cat skeletons instead of human skeletons (referencing Ms. Koehler's love of cats), and P4's door depicts a marigold path leading the deceased toward their living loved ones. Decorated doors lining the halls brought a festive air to the school this year.
MEChA and the Spanish department want to continue to expose the student body to Mexican culture.
"It's pretty good for [everyone] to know about [Dia de los Muertos], and for them to be aware and to celebrate it, and not to exclude any other cultures because we as Latinos are very open to their cultures," described Korine Zendejas (12). "So we expect the same in return."
About the Contributor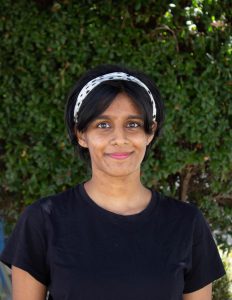 Anika Konkati, Broadcast Editor
Anika Konkati (12) is overjoyed to be Broadcast Manager for The Voice! She adores talking to people and learning about them. Ask her about video games, music, video game music, and her cute eraser collection.