Valhaunted: Behind the Screams
"Valhaunted: Alice in Horrorland" was an exhilarating and frightening production by Irvington's Drama Department to celebrate Halloween. It was an immersive haunted house experience that groups of 10 people went in at a time to experience. Planning for the script, costumes, set designs, and much more have gone on since the beginning of the school year. This resulted in one of the most successful Valhaunteds yet.
Planning for Valhaunted began at the beginning of the school year. The theme, Alice in Horrorland, was chosen unanimously by the Drama 3 and Drama 4 students. After deciding the theme, the students began writing and designing the show.
Valhaunted was directed by two Drama 4 students, Logan Ho (12) and Dhiya Kannan (12). Ho led the in-class rehearsals for Valhaunted, while Kannan took charge of the actual showing days. Although it was difficult leading the whole performance with just two people, the play was done spectacularly.
"Luckily, we've had a lot of help from Drama 3 kids," said Ho. "They get a lot done."
Volunteers and students from Drama 2 and 3 acted and worked on set design and costumes.
"We spent two days after school just putting [the sets] all on" stated Joycelyn Wong (11), a Drama 3 student who plays Evil Alice in the show. "It took a really long time writing and preparing all of the scenes."
However, much of the acting rehearsals was done just two to three weeks before the show because Drama 2 had to do their Commedia show before practicing Valhaunted. It was a big challenge to put the project all together in the end and tie up the loose ends. Actors also had to adapt to doing improvisation; because Valhaunted is designed to be an improv show, the actors would make up parts of dialogue in the moment.
"You have to predict what the audience is going to say and how you would react to your character's actions," said Wong, describing the challenges of improv.
On the day of the play, dozens of people lined up outside the theater to see the show for $5. Groups of 10 people went in at a time to experience the Horrorland masterpiece.
"My expectations are that it's going to be scary and have better makeup and costumes compared to last year," commented Chantel Sanchez Valadez (11) before entering Horrorland. "I would rate last year's fear factor a 6 out of 10".
Going into Horrorland, you are greeted by Alice, played by Antwanette de Guzman (11), who walks you through Horrorland… well that is, before she is tempted by a cookie and whisked away. Evil Alice takes her place and brings you through the edges of Horrorland to be victims of the Red Queen. Thankfully, Alice returns and saves you from Evil Alice and the Red Queen at the end of the haunted house experience.
Coupled with horrific screams and jumpscares from behind, Valhaunted was quite a fright this year.
"I would rate Valhaunted this year a 9 out of 10," said Katelynn Pan (12). "There were a lot of doors and hidden spots so we didn't know what would happen. The narrow hallways also made it scarier and everyone was very immersed in their roles."
It's safe to say that all the planning and work bore fruit to some suspenseful frights.
"Everything in general was so much better [than last year]," said Wong. "It's one of the theater's most successful Valhaunteds."
About the Photographer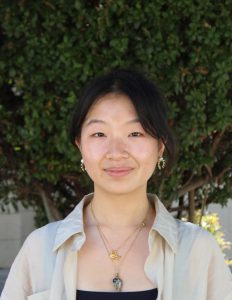 Jessica Li, Staff Writer
Jessica Li (11) is excited to be working as a staff writer! It's her first year at
The Voice
, and she looks forward to sticking her nose into and writing about everything in Irvington. When not at school or participating in school clubs, she loves visiting museums, making lattes, and eating cake.