Christmas Album Review
Michael Buble's Christmas Still Tops the Charts
By Jenny Lu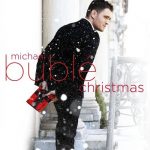 With a new year rolling in, holiday music is currently the most played genre on everybody's playlists. However, a new year doesn't necessarily mean new holiday music, or rather, it doesn't necessarily mean good new holiday music, which is demonstrated as the top selling holiday albums on iTunes are mainly from 2011, with Michael Buble's Christmas topping the charts. Buble's Christmas is also my personal favorite Christmas album.
Buble's soulful and warm voice is simply designed to sing holiday music. When he sings, I can envision the chestnuts roasting on an open fire. Every time he opens his mouth, I can feel myself melting. While it came out on October 24 of 2011, it remains the number one Christmas album on iTunes and Amazon.
Buble puts his own unique spin on classic holiday songs such as "Silent Night," "It's Beginning to Look A Lot Like Christmas," "Santa Claus is Coming to Town," and "Have Yourself A Merry Little Christmas." It's refreshing to hear new takes on these timeless, albeit overplayed, classics. Buble's versions transport me to a warm cabin out in the snow, and I can almost feel the fire crackling next to me.  His voice brings the Christmas spirit to wherever it's played.
Buble's Christmas album comes with fifteen songs and a personal holiday greeting from Michael, which is really reason enough to purchase the album.