"Les Mis" Exceeds Expectations
By Kelsey Wong
"Les Misérables," director Tom Hooper's adaption of the 1985 hit musical, has been inching near the top of the holiday box office after its release on Christmas Day.
Set in 19th century France, this romantic film centers on the life of Jean Valjean (played by Hugh Jackman) from 1815 to 1832, the year of the Paris Uprising. At the beginning of the film, Valjean is released from prison after 19 years and finds himself in a society where his past impedes on his present. However, with time we see that Valjean's character changes through his interactions with others. Other key characters include Fantine (played by Anne Hathaway), Javert (played by Russell Crowe), Cosette (played by Amanda Seyfried), and Marius Pontmercy (played by Eddie Redmayne).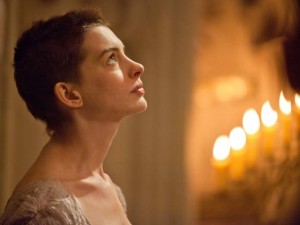 Arriving to the theatre with hopes that "Les Misérables" (also referred to as "Les Mis") would not be another book-butchering movie, I left with expectations exceeded and a content heart. As mentioned earlier, "Les Mi"s is based on the musical adaption of the book, not the book itself. I did not know this ahead of time and hence was not prepared to listen to 157 minutes of pure singing. (Additionally, the musical happens to have minor differences from the book, so if you only read the book, do not be too shocked to see the plot modifications.)
Other than that surprise on my behalf, I believe "Les Mis" is a beautiful movie. The actors, music, and cinematography produce an enthralling story that stirs the basic emotions of the human soul: love, fear, and wonder. Even down to the smallest detail, to the fringe of the French National Guard's epaulette, "Les Mis" captures the story precisely.
However, I wished to see a stronger performance from Russell Crowe, who portrays Javert, a stern law-abiding prison guard. Through the film, I felt that Crowe portrayed Javert only mediocrely. I suggest trying to portray your emotions not only through eyes but also through facial expressions, Mr. Crowe. Nevertheless, Anne Hathaway's soulful singing, Samantha Barks's (as Eponine) unconstrained love profession, and Hugh Jackman's thoughtful expressions bring the characters to life. Humorous performances from Sacha Baron Cohen (as Monsieur Thérnadier) and Helena Bonham Carter (as Madame Thérnadier) lighten the intense mood of Les Mis.
The film is two hours and 37 minutes long, which translates to zero bathroom breaks. The first half of the movie feels a bit lengthy, but the second half passes by quickly as the pieces of the puzzle begin to come together.  Tears (spoiler ahead) spilled down my face when Javert bent down to place his medal on Gavroche's corpse, and from then on, I could feel the tug of the Revolutionaries' passion on my heart. When Valjean passed away and saw the Revolutionaries who had sacrificed their lives, I could feel chills running down my body as the voices of the Revolutionaries filled the theatre.
A practical tip before watching "Les Mi"s is to know what the story is about. If you do not read the book or watch the musical, it's more troublesome to follow the movie.
All in all, it is worth your time and money to watch "Les Misérables." There's just something magical that happens when you combine passionate Revolutionaries with intense singing, blood, and Sacha Baron Cohen.
Overall Grade: B