IHS Viking Wrestlers Make School History at 2014 NCS Finals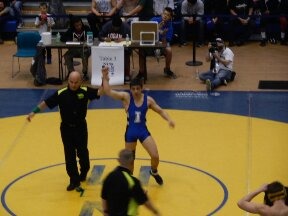 The first IHS wrestler in 12 years to do so is going to the State Wrestling Finals in Bakersfield
By Hugo Vera
94 schools converged on Friday February 28, 2014 and March 1, 2014 at Newark Memorial High School for the 2014 North Coast Section Wrestling Finals. Irvington (now ranked 34th in the NCS wrestling standings) sent the following wrestlers to Newark. Among them were Douglas Terry(12), Keith Thomas(12), Shawn Delbarrio(12), Christian Robillo(12), John Andrade(12), Kenneth Vu(10), Daniel Redeker(10), and Bryant Yim(9).
Kenneth Vu defeated Marlon Boulingo of Alhambra and was later defeated by Ricky Coster of Freedom High School. Varsity Captain Keith Thomas defeated wrestlers from Clayton Valley High School and Livermore, and later lost to Michael Klee of Cardinal Newman, the school ranked 12th in NCS. Douglas Terry had a record of 1-2 during the tournament after sustaining a loss from a Foothill wrestler. Only one Viking wrestler had advanced to the second day of the NCS Finals.
This year's NCS Finals were split into three Sessions over the course of its two days. By the time the tournament went into Session III (the Finals Session), Irvington had one wrestler remaining.
"Honestly, being that it was my first time making it to NCS, I didn't know what to expect", said Senior Douglas Terry when reflecting on the tournament. "Like any other tournament, you do your best and just see what comes of it."
Senior John Andrade placed 2nd at the 2014 MVAL Finals the week before NCS after losing to 4-time MVAL Champion Jacob Macalolooy. The championship match with Macalolooy was filled with heated controversy after Macalolooy deliberately pushed Andrade's face into the mat following the end of the third round. Despite being booed from the stands, Macalolooy accepted and later flaunted his 1st Place MVAL keychain.
At the NCS Finals, Andrade won the third place title for the 138lbs weight class after pinning his opponent (Joseph Gradek of Ukiah) in 25 seconds. This match alone was the shortest championship match that took place the entire weekend. This makes Andrade the first Irvington wrestler in 12 years to advance to the California State Wrestling Finals in Bakersfield.
"I was on a mission. I've trained for multiple hours every day, going to two practices a day for 10 weeks. I only had five real days of summer vacation", said Andrade when telling The Voice what he did in preparation for the 2014 NCS Finals. "It's a dream come true for me. I lost in the semifinals, to which I blame no one, but I had to come back. [Gradek] beat me before, but I did it."
Upon receiving the Third Place medal for the NCS, Andrade thanked his coach Carolyn Wester. Wester is the Head of Wrestling Prep, the nation's top wrestling academy based in San Jose.
"She believed in me. Despite being third in the Sophomore League that I was in, she saw something in me. God wanted me to win this year, and I'm thankful I did."