By Cathy Wang & Radhika Munshani | Opinions Editor & Staff Writer
Students and teachers participated in friendly competitions and activities from Feb. 1-5 for Irvington's first ever Students vs. Teachers Week.
Monday, Feb. 1 (Day 1): Quiz Bowl
Seniors Garima Desai, Deepti Gunge, and Mindy Nguyen and sophomore Abhiram Prattipati challenged teachers Ms. Berbawy, Mr. Ip, Mr. Stilwell, and Mrs. Marsella-Jensen to a fast-paced trivia competition. Both teams were head-to-head throughout the game, answering questions ranging from identifying Kardashians to balancing chemical equations until the teachers won the tiebreaker by correctly identifying the real Miss Universe.
Tuesday, Feb. 2 (Day 2): Dress-up Day
Countless students dressed up as their favorite teachers. Many students imitated Mr. Domingo by draping their jacket around their shoulders, Ms. Tebow by wearing athletic clothes, and Mr. Denies by wearing Hawaiian shirts. ASB Service Learning Commissioner sophomore Nickita Gupta said, "It was really fun to dress up like one of my favorite teachers! My friends and I all got into it and had a blast. It was a really creative spirit day, and we'd all definitely do it again."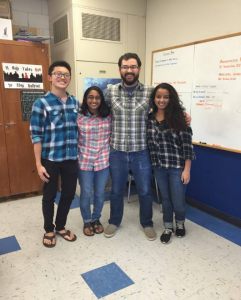 Wednesday, Feb. 3 (Day 3): Basketball Game
Boys' varsity, JV, and volunteer student basketball teams played against an alternating group of ten teachers in a lunchtime basketball game refereed by Mr. Larsen. Although there was no official score, both teams made several impressive baskets. Amid scrambling and catching rebounds, both Mr. Leon Lee and senior Dylan Scott made several three-point shots.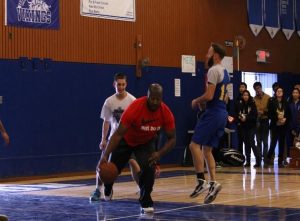 Thursday, Feb. 4 (Day 4): #studentsloveteachers
Students expressed their appreciation for their teachers by posting photos with their teachers on social media with the tag #studentsloveteachers. The shots garnered many likes and much excitement on social media sites. "It was cool to see Irvington spirit on social media websites," said senior Hariharan Sezhiyan. "You don't see something like that very often."
Friday, Feb. 5 (Day 5): Unity Day
Students brought their teachers to the courtyard for pictures with different props, which included a sun cut-out, a heart mask, and an "I Love" arrow. Senior Shubham Gupta explained, "It was really nice to see teachers and students mingling outside the classroom."