Patched Courts and Second Place: Girl's Tennis ends the season on a high note
After a season of 14 games and many practices, the girl's tennis season came to a close the first week of November. After a subpar 8-6 record last year, the Lady Vikings bounced back and ended this year's season with a successful 11-3 record and second place at MVALs.  
In addition to the entire team's winning record at MVALs, Captain Allison Cheung (12) received "All League Honorable", Priyanka Gupta-Martinez (9) received "All League Second" with a 12-2 record, Anisha Narsam (11) received "All League Honorable Mention", and the doubles team consisting of Arielle Wilson (12) and Elisa Ngo (9) received "All League First Mention."
The team's major success did not come without obstacles. For years, the widening cracks on Irvington's aging tennis courts have caused many falls and injuries.  Due to its dilapidated courts, some other schools in the league were even debating to not play at Irvington. The Irvington Girl's Tennis community took action. After the team's parents saw the courts, they personally took their complaints to the district office, and just last week, Irvington's tennis courts were finally repatched.   
Coach Lyle Walker attributes this year's success to an immense amount of organization and discipline. Summer practices for the doubles teams was a large factor in upping the team's record. The coaches make it a hard rule that no one is exempt from practices, even if players were exceptionally talented.
"Last year, we weren't competitive at all, it was more socializing," Coach Walker said. "We lost to teams that we hadn't lost to in 10 years."
Because Irvington secured second place at MVALs this year, they were able to attend their last tournament of the year, NCS (North Coast Section).  
This year's accomplishments left Coach Walker with confidence that next year's season will be even more successful.  
"Every year just gets better and better, so my hopes are high every year," said Walker. "[The seniors] have already said that they are going to miss the court, and that means we have done something right."
About the Contributor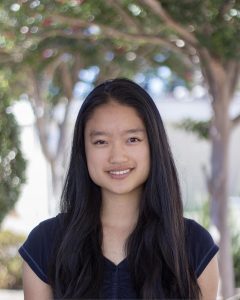 Elaine Chan, Editor-in-Chief
Elaine (12) has been a staff writer on
The Voice
for three years, was previously student life editor, and is currently c0-Editor-in-Chief. She particularly enjoys creating aesthetic layouts on indesign and interviewing people for articles.  In her free time, Elaine enjoys competitive dancing and traveling with her family.