Even Basic Witches will Enjoy these Halloween Deals!
With Halloween just around the corner, it's every kid's favorite time of the year! And while candy from your neighbors is great and all, businesses and chain companies are coming out with some sweet deals, meaning you're in for a real treat! Our all-time favorite, Starbucks, is releasing their limited edition Zombie Frappuccino from October 26-31 at available locations. The caramel green apple flavored drink is a new concoction and your chance to sip some "brains". Annually, Krispy Kreme releases Halloween themed donuts, with this years selection rumored to showcase a new "jack-o-lantern" and "black cat" donut. These new editions are paired with other spooky treats that are scary and sweet at the same time! Let's not forget Baskin Robbins, that comes out with exciting new deals on a variety of items each October. Additionally, Baskin Robbins has released a new array of spooktacular ice cream flavors, including a new Trick OREO® Treat flavor, a wicked good creation of vanilla ice cream with chunky orange creme-filled Oreos, Butterfinger pieces, and other candy pieces. Chipotle is also promoting their annual Booritoes Campaign. Starting from 3 p.m. to close on Oct. 31, Chipotle will charge people in costume $3 for "Boorito" burritos, bowls, salads and tacos. Whether you are dressing up this Halloween and trick or treating, or staying indoors and chilling with friends, you don't want to miss out on the terrifyingly delicious deals fast food places and restaurants are coming out with this season!
About the Writer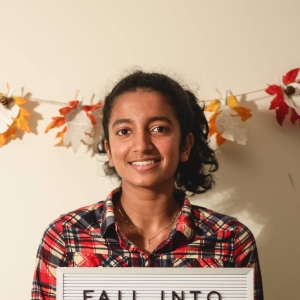 Rachel Kavalakatt, Humans of Irvington High Editor
Rachel Kavalakatt (12) is excited to be Humans of Irvington High Editor at the Irvington Voice. She started Humans of Irvington High two years ago with the mission to capture the heart of the Irvington community through telling personal student stories. Her passion for storytelling and connecting with others immersed her in the world of journalism, and she has never looked back since! Rachel's personality traits include being Canadian, spontaneous renditions of
Hamilton: An American Musical
, and an obsession with spoken word poetry.